From the time chainsaw was first used, it has passed many evolutionary phases. Its uses have been more versatile through the phases. In the modern era, chainsaws are used for ice cutting as in the winter swimming or ice sculpture, besides their use in chainsaw mills and chainsaw art.
There also has been an evolution in the type of chainsaws. Once, when the world was not still acquainted with batteries, chainsaws with cords had been used. But as the world approached the modern era, cordless chainsaws have become more familiar and famous at the same time. In this article, we have done very deep research on the best cordless chainsaws to ease your choosing variety. After the research, we are presenting the top 10 cordless chainsaws before you.
1. EGO POWER+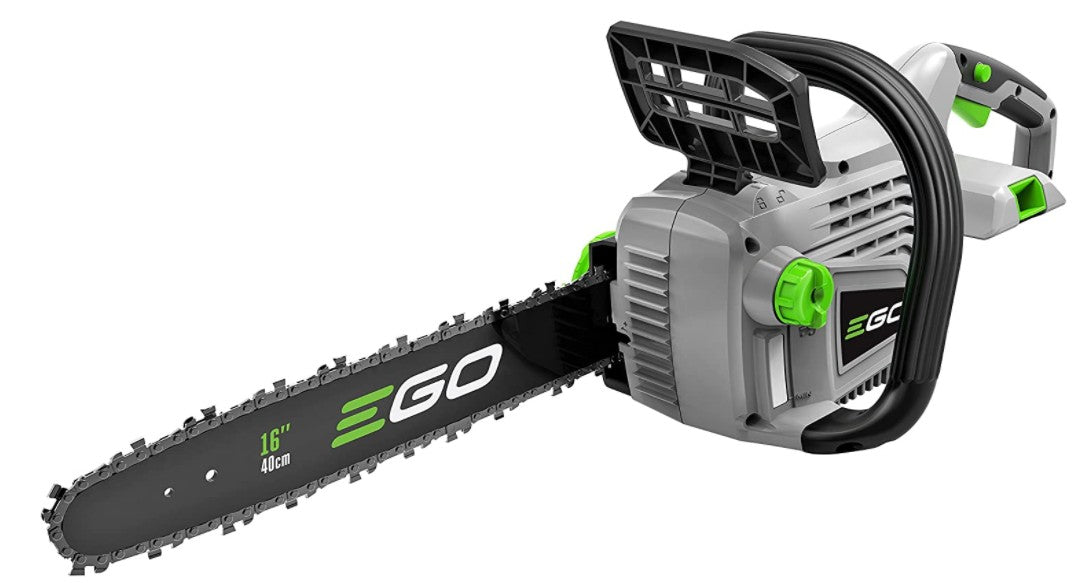 The EGO POWER+ chainsaw offers genuinely force beyond comprehension. The 16 inches' bar and chain, paired with a high-efficiency brushless motor, produces conveniently smooth cuts. The brushless motor increases both machine life and run time.
The speed of 6800 RPM delivers the strength of chopping through softwood, hardwood, roots, and many more
The 16 inches bar and chain offers smooth cutting and a reduced-kickback design for the purpose of safety
The high-efficiency brushless motor offers faster working time, low noise, and better engine life
Serves 300 cuts with the recommended 5 Ah 56 volt ARC Lithium battery
Adjustment for chain tension available
Along with the reversible bar, the chain is designed as a low kickback
This cordless chainsaw comes with the construction of a water resistance facility
The EGO POWER+ chainsaw delivers gas efficiency without the noise, fuss, and fumes
It is compatible with both EGO Control+ ARC Lithium batteries to provide power beyond expectation (available separately)
The price of this chainsaw starts from $218 on Amazon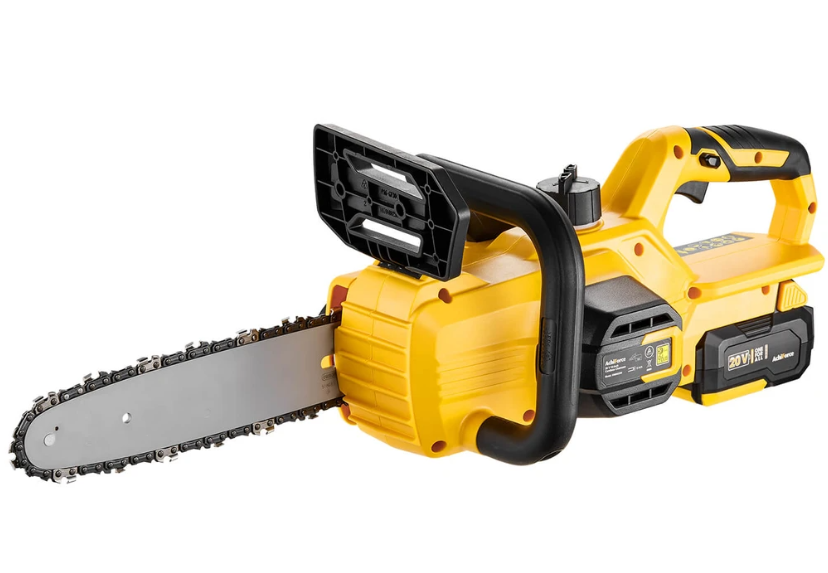 AchiForce is next in our list of top cordless chainsaws brand. With a vibration level of below 2.5 meters per square second at the front handle and same at the rear handle, you will feel almost no vibration while sawing. That is undoubtedly a great comfort.
The chainsaw is weighed 15.7 pounds or 7.12 kg
The maximum power of this chainsaw is 140 Watt
Manufacturers of AchiForce have used Lithium-ion battery in it
The maximum rated voltage for this chainsaw is 20 Volt, whereas the nominal rated voltage is 18 volt
The noise pressure level is below 99 dB. That is another great feature you can get from this best chainsaw
The 4000 mAh capacity gives this chainsaw another level at being useful
It gets fully charged at 120 minutes only with a charging current of 2 X 2.4 A
The guide bar and the saw chain is Oregon made
The idling speed is 8000 rounds per minute
The cutting speed is 15 meters per second
3. Dewalt DCCS620B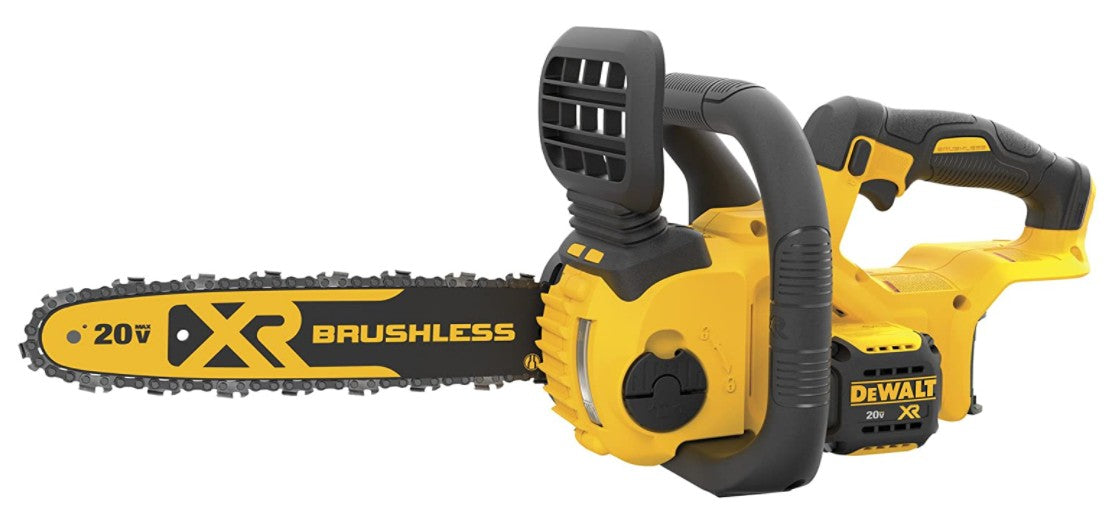 Dewalt DCCS620B 20 volt max compact cordless chainsaw is another one with low kickback design with the same safety purposes.
The 12 inches Oregon bar and chain is made applicable for outdoor cutting and construction uses
The highly efficient brushless motor helps in maximizing run time and motor life
The speed of the chain is 25.2 feet per second
This chainsaw comes with tool-free chain tensioning
Presence of a bar tightening knob. They are for correct and actual bar clamping force
This Dewalt chainsaw is designed to compact and lightweight
The weight of only 8.8 pounds or 4 kg gives the user maximum control and comfort at the same time
Usually, it is sold as a bare tool item. That is to say that the battery is sold separately. However, with the regular 20-volt battery, the price will start from $279 on Amazon. But, if you do not include a battery in the purchase which means that if you purchase the bare tool, you will have to spend only $158.99.
4. Oregon 16-inch Self-Sharpening Cordless Chainsaw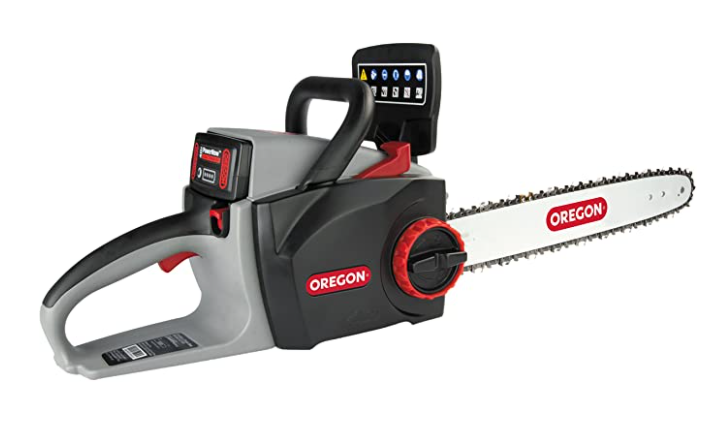 The Oregon 16 inches self-sharpening cordless chainsaw comes with a brushless motor that provides increased power output and efficiency.
The PowerSharp chain minimizes downtime by enabling you to sharpen your saw in just a few seconds right on the chain
Another magnificent feature- to start the chainsaw, you don't have to pull cords, simple pulling of a trigger will do the work
Using the built-in lubrication oiling system, the chain remains oiled which reduces chain friction and increases the runtime of the saw
This cordless chainsaw is also built lightweight for providing ease and comfort in the time of sawing
It carries premium cell technology. This technology holds the charge as storage for months and also means constant no-fade power
The chainsaw weighs about 12 pounds or 5.4 kg with battery
Cuts approximately 400 branches in a single charge
Another great feature of this saw is that it remains silent between the cuts
If the regular 4 Ah battery pack is included in the purchase, it will take around $356, as on Amazon. However, with no battery back included, it will cost you about $225.
5. Greenworks G MAX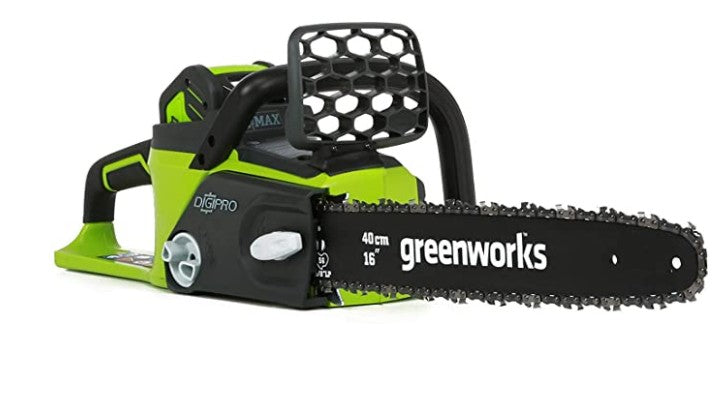 This is one of the best cordless electric chainsaws. The Greenworks 40 volt and 16 inches chainsaw is a strong cordless preference and this saw's features are hard to beat with reliability and ease of use for consumers.
Simple repair, high-quality fabrication, and lightweight architecture help you work fast and keep you going until the job is finished
The low kickback and electronic chain brakes are protective measures that can maintain peace of mind
When you work, an unintended kickback will be halted in its tracks before an injury can occur. That doesn't mean you should operate without clear protection instructions. Only the most inexperienced saw users will start understanding the ins and outs of easy usage of a chainsaw
The electrical start and brushless motor allows you to work effectively and quickly
Provides up to 30 percent more torque with 70 percent less vibration compared to the peer gas models
Without the charger and battery being included in the purchase, the price of this chainsaw will be around $249. However, you might get a discount on the actual price.
6. Earthwise LCS35814 Cordless Chainsaw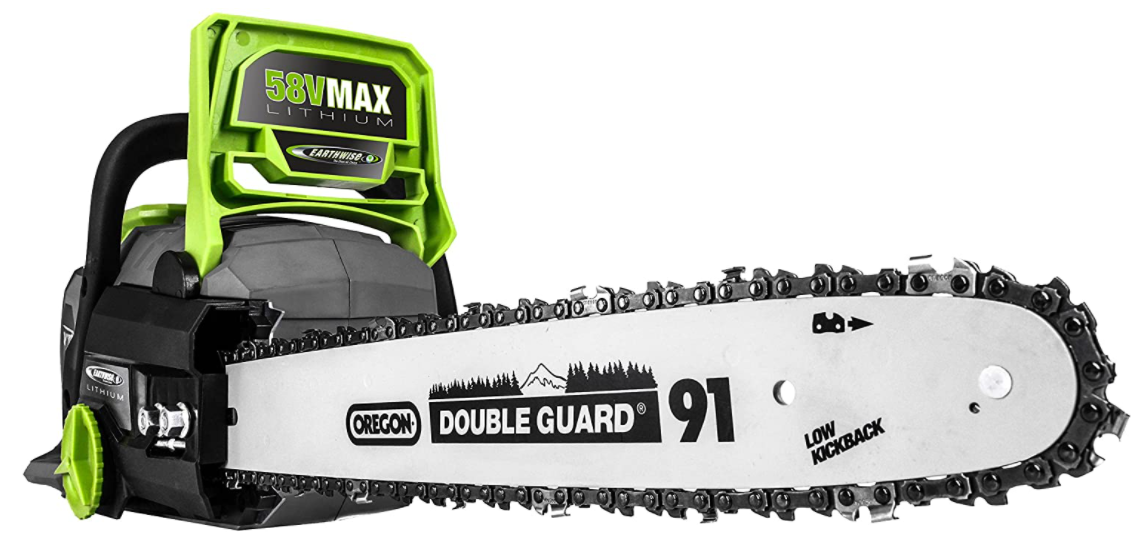 The highest product from the company is the Earthwise LCS35814 14 inches 58 Volt cordless chainsaw. While many cordless chainsaws on their top models have a 16 inches bar and chain, it shouldn't be our primary priority here. Getting 2 inches extra in the bar length may be an asset with dense logs, but that is not what we ought to consider.
This suits every gas-powered chain saw of the same scale in terms of strength and that accounts for a ton. Also if you've had a larger bar, but you don't have the corresponding strength, you are not really getting benefited too much
The chain is self-lubricating (automatic oiling system) and has a wonderful chain tensioner with no tools
The Earthwise LCS35814's large chain tensioning knob is very likable. It smacks of value and is user friendly
The brushless motor is among the bests, offering tons of power from its lithium-ion 58V 2AH battery, which easily slots into position
The price of this cordless chainsaw with battery and charger starts from $440.
7. Black & Decker 12 LCS1240

Here comes another cordless electric chainsaw. This Black and Decker 40 V chainsaw's most prominent and noticeable aspect will be the edge-loading battery that fuels the saw, removing the need for two-cycle fuel.
There's a 12-inch bar and chain with a tool-free chain tension system to provide effective and quick cuts to powerful sawing
Ideal for certain odd things, including pruning, trimming, or limbing around the building, it boasts a 12-inch bar that packs a powerful punch when prompted
It is not a large saw, yet with a little care and time, it works perfectly well
The tiny powerhouse is always good to go and will work everywhere as long as the battery is powered
The price starts at only $199.
8. Sun Joe ION16CS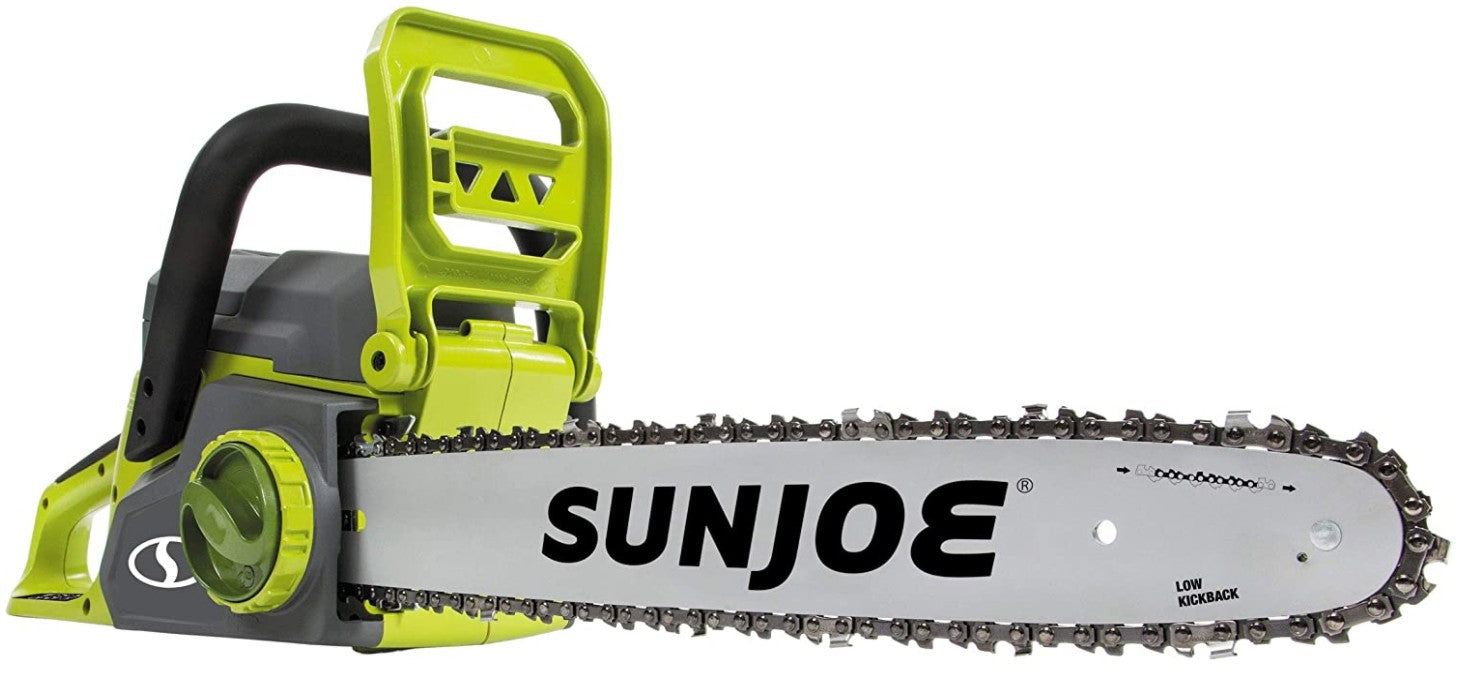 The Sun Joe ION16CS was designed and built to fall, buckle, and de-limb small and medium-sized trees. It is not appropriate for any other form of job, such as hedge trimming or carving with a chainsaw.
This compact battery-powered saw is ideally adapted for intermittent home usage and will be ideal for cutting limited pieces of firewood or removing minor damage during storms
The ION16CS has a total cut diameter of 14.8 inches according to the producer, which would be more than sufficient for the trimming and cutting needs of most homeowners
It cannot be used in damp weather or high temperatures as in other cordless electric saws
The price of this chainsaw starts from $273 that includes battery and charger beside the saw itself.
9. Makita XCU09Z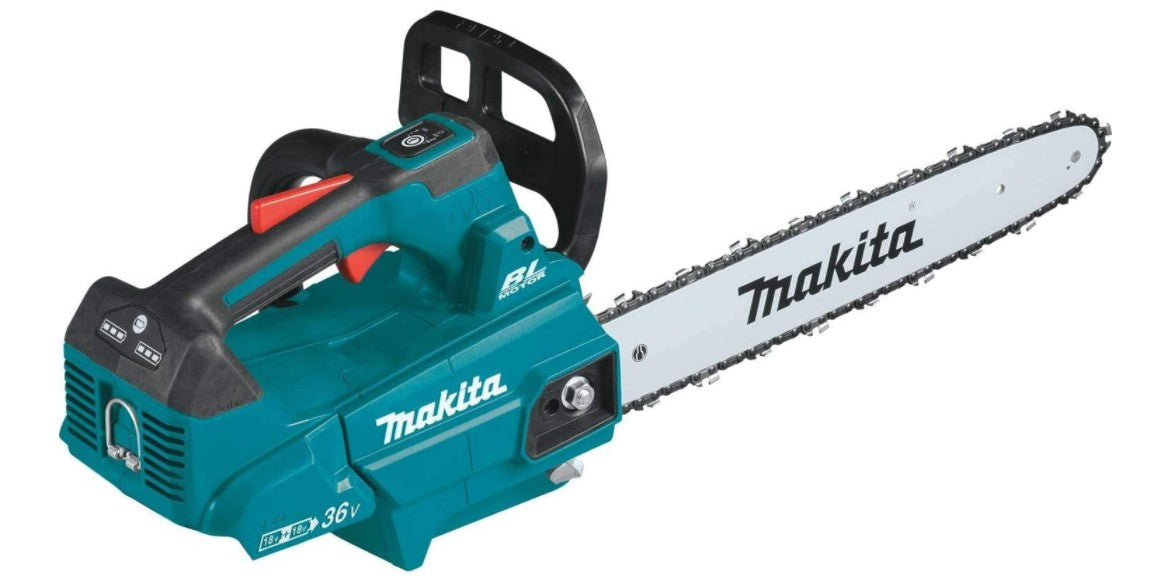 The Makita XCU09Z chainsaw is one of the best cordless chainsaws with battery. The power equivalent of this chainsaw is equivalent to a gas chainsaw of 30 ccs. You can easily understand its efficiency by this.
The top handle design is built for professional tree care industries
This high innovative chainsaw has a variable speed trigger and high chain speed (0 - 3,940 feet per minute) for improved cutting performance
It has torque boost mode that powers through hard or thick branches
The rubberized soft grip in the top handle is manufactured as such that it lets the user apply cutting pressure more easily
This saw exerts very low-level noise and also zero emissions for the comfort of the operators
The saw is equipped with Start Protection Computer Controls that protect it against over-discharging, over-heating, and overloading
Also, the XPT (Extreme Protection Technology) on this product offers increased dust and water resistance
The 16 inches' sprocket nose guide bar and 0.043 inches' gauge chain is a key feature of this chainsaw
It has adjustable automatic chain lubrication with a large oil reservoir. The large oil filling port with window view allows the sawyers to add and check the bar oil level easily
You will get an extended battery life as the saw automatically shuts off after 60 seconds
The built-in facility of lock-off level offers to prevent the chain to engage accidentally
Get this chainsaw with 4 additional batteries on Amazon at $389. You can get the chainsaw without additional batteries at $269.97.
10. Zombi ZCS5817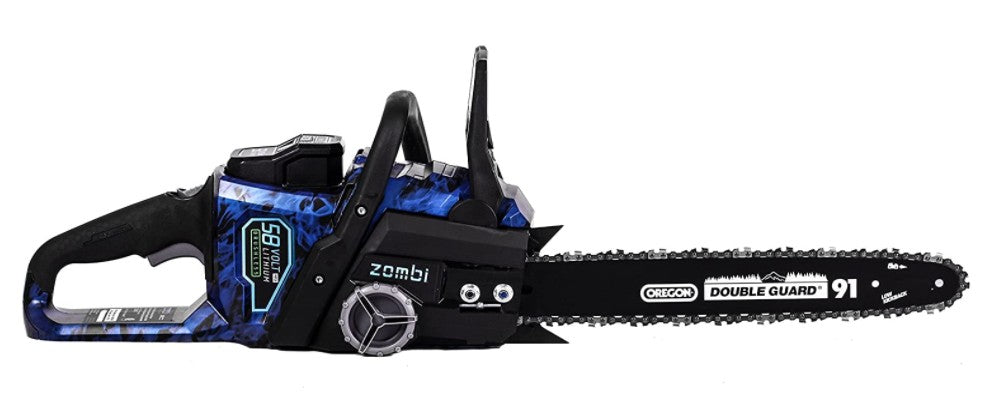 This chainsaw has got one of the best cordless electric chainsaw reviews. The Zombi Cordless's portability allows it to be a safer choice than corded saws that would travel from an electrical socket only 100 ft. apart.
The low kickback, tool-less tensioning, and automated oiling device are only added features that render this long-lasting, cordless saw a good choice for the heavy jobs across your house
The Zombi ZCS5817 is a safe saw for your daily use
The chain-brake is another safety feature on the Zombi
While operating the saw, it is important to stop the chain from spinning around the bar rapidly. The Zombi chain braking mechanism is able to quickly prohibit that application
This Zombi cordless chainsaw is priced in the mid-range.
Conclusion
Cordless chainsaws are far better than corded chainsaws in many aspects. They provide you with the facility of portability which is the primary concern in some cases of sawing. However, even among the cordless chainsaws, some have advantages over others. We have tried to search and find the best cordless chainsaw for you and listed them in these cordless chainsaw reviews. Before buying your next chainsaw, go through this article again and this will help you choose the best one that suits you, hopefully.