A pressure washer is a mechanism driven by electricity or gasoline to spray water forcefully and clean surfaces. Previously it was generally used in big factories to clean a large area or a large number of items. But in recent times it becomes popular for domestic uses too. The reason is our fast and furious modern-day lifestyle. We got fewer times left for cleaning and maintaining our household. So naturally, we are getting prone to find a helping hand to reduce the workload. Thus a pressure washer is now not a strange thing in most of the urban houses.
It can do small things like spraying water in your garden plants or watering your lawn. It can to medium washing jobs like cleaning your four-wheeler or your bike, decks and docks, patios, driveways and pathways, stairs and rooftops. You can even do heavy-duty washings like removing graffiti from walls, or removing paint stains from a hard surface, washing grease and oil from your garage floors. You can do all these cleaning tasks in one pressure washer by simply turning its nozzles.
7 Electric Pressure Washers Which Cost You Less Than $150
Electric pressure washers come at very reasonable prices nowadays. It will cost you roughly $100 to $150 to buy an electric pressure washer with a medium PSI rate. By purchasing a pressure washer thus you are saving thousands of dollars in a year. Because your one-time car servicing and cleaning by a professional can cost you more than this. Not to mention the time it takes to be done and the struggles of taking it to the garage and return.
With a medium-range pressure washer and a good knowledge about its functions, you can do all these washing stuff in your home and garden area. Electric pressure washers also do not require maintenance and fuel charges like a gas pressure washer. So it is an onetime investment to get years of effortless services. Here are 7 recommendations of electric pressure washers that will cost you below $150 and serve endlessly.
1. WestForce: 2600 PSI 1.65 GPM 1600W Pressure Washer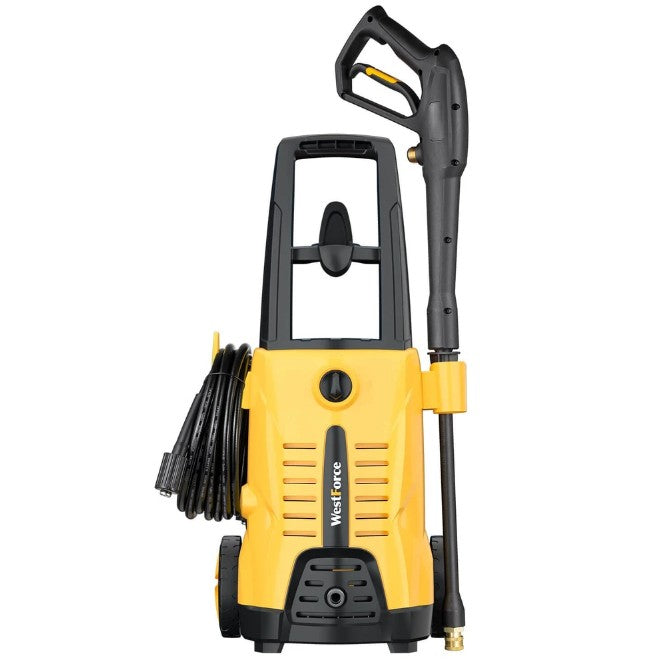 WestForce designed this pressure washer particularly for everyday domestic washing and cleaning purposes. It comes in a yellow-black compact strong plastic outer mold that keeps the motor safe from moisture and dust. It looks classy as well as modern. And it is designed in a user-friendly structure. It got a pressure hose and power cord holder separately so that you do not mix them. It got wheels so that you can easily glide it with you.
Its 2600 PSI is more than enough for your daily domestic uses. You can even wash difficult stains and hard to reach areas with this much water pressure.
It got 1.65 GPM which is fair for a medium-range electric pressure washer. You can clean mud and dirt from cars, patios, window panes, sidings, or even walls with this water capacity.
It has 1600 W/13 A copper motor for providing you long-lasting service with less voltage consumption.
All the WestForce pressure washers come with ETL certification and GFCI protection, safety automatic total stop system or TSS, and IPX5 waterproof protection. So you do not need to think twice in terms of its safety section.
It has a 20 ft long pressure hose and 35 ft power cord which is the same to the branded heavy-duty pressure washers. There should not be any compromise in the length because the length of the power cord is very important for an electric model.
It got five quick-connect nozzles i.e. red, yellow, green, white, and black for your different washing needs.
And all these features come in just $109.99 which is the most amazing thing about it.
2. Sun Joe: 2030 Max PSI 1.76 GPM Pressure Washer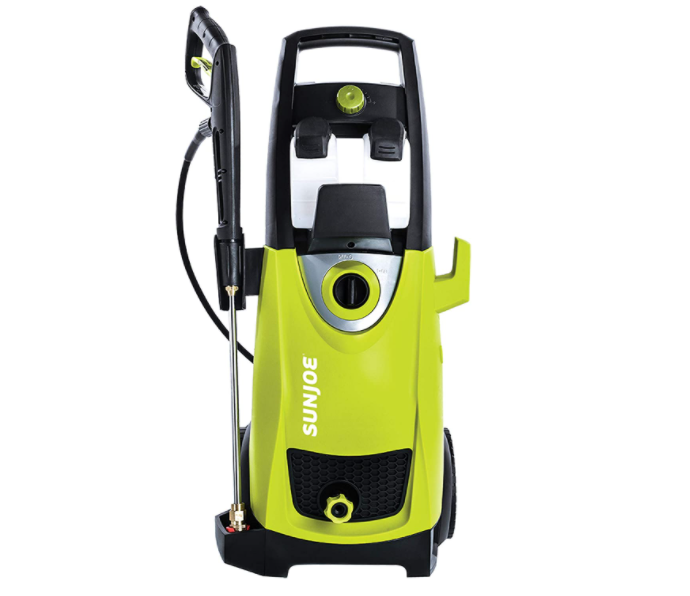 This is another stylish and effective pressure washer model that will compliment your interior looks apart from cleaning it. One f the reasons why people choose electric models over gas models is their compact and stylish looks. They look like familiar everyday stuff, unlike the gas-powered ones. So if you are looking for a good pressure washer with a beautiful design then try this.
It has 2030 PSI and 1.76 GPM which will do sufficiently all your small and medium everyday cleaning tasks. It is especially safe for cleaning delicate or fragile homily objects.
It has 14.5-Amp/1800 watt motor that can take up to 104 degrees Fahrenheit temperature.
It has two 0.9 L onboard soap tanks in it. You can put detergent and chemical mixes in these two different removable detergent tanks and wash or clean simultaneously.
It has TSS technology which will automatically shut off the motor when you are not using it. It will reduce the risks of accidental damages.
Sun Joe gives you 2 years warranty on this product which is excellent for a miniature electric pressure washer.
It comes with an affordable $137 price range.
3. Stanley: 1900 PSI Electric Power Washer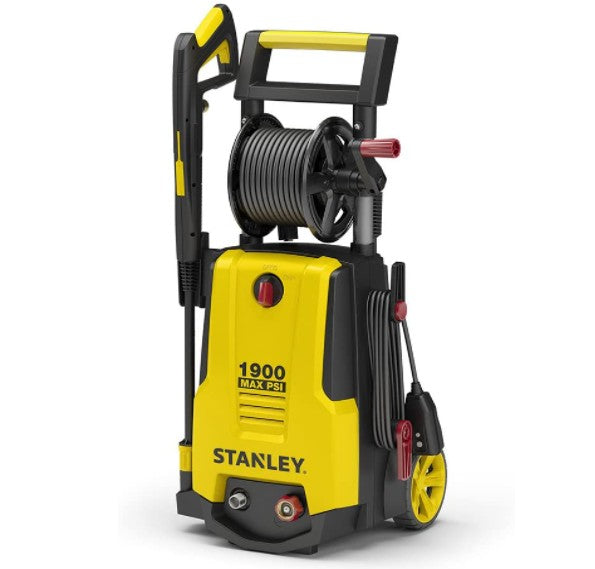 This is another mini and portable electric pressure washer model that can take your burden of washing and cleaning stuff easily.
It supports 1900 PSI but that does not make it less than the others. Instead of domestic purposes, this much pressure is considered to be enough and safe.
You can save half of the water consumption by using it as it cleans quickly and forcefully than normal hose wash.
It got a 25 ft flexible and soft pressure hose to reduce kinking. It is a soft PVC pressure hose, unlike plastic vinyl hoses that make cleaning jobs tougher.
It has a leak-proof outer body that will protect the inner motor and functions from outward humidity and dust.
Stanley 1900 comes with two years warranty so you can use it without any worry and replace it if you find any fault during the warranty period.
you can buy this product easily online from Amazon in below $150
4. Kaercher:K2 Plus 1600 PSI Pressure Washer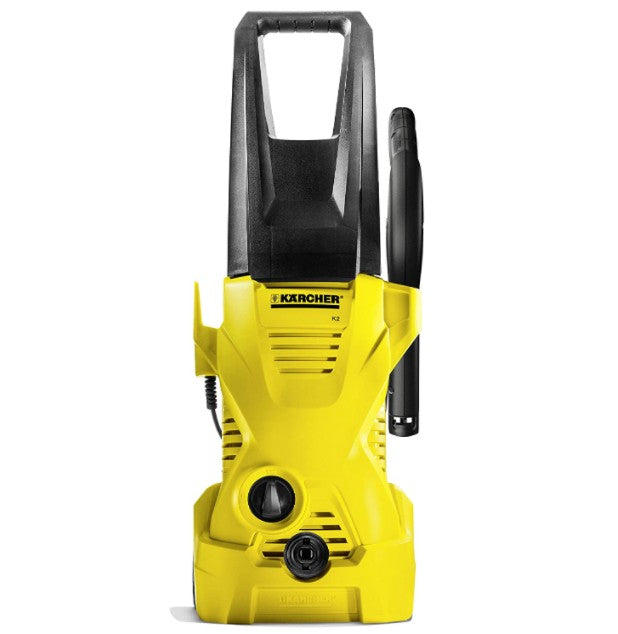 Karecher produced this K2 plus electric power pressure washer with 1600 PSI and 1.25 GPM capacities.  You can use this portable model you soap and clean your bathroom tiles regularly. It can easily remove watermarks from the bathtub or kitchen sink or oils from the kitchen desk.
It supports a 20 ft long pressure hose that is slightly shorter than the previous ones. But in terms of light-duty domestic works, this will not bother you much.
You can easily adjust the spray capacity and pressure right from the Vario power spray wand.
It weighs only 16.8 pounds. Although you do not even need to lift this much weight because it got wheels. Just hold it and drag it along with you on a plain surface.
It has an N-COR pump which is durable, non-corrosive, and maintenance-free.
You got covered by 2 years warranty on this product. With the rapid exchange program, you can replace and get a new one if your pressure washer got defected during the warranty period.
You can buy this product at $152.27 on Amazon.
5. Greenworks:1600 PSI Pressure Washer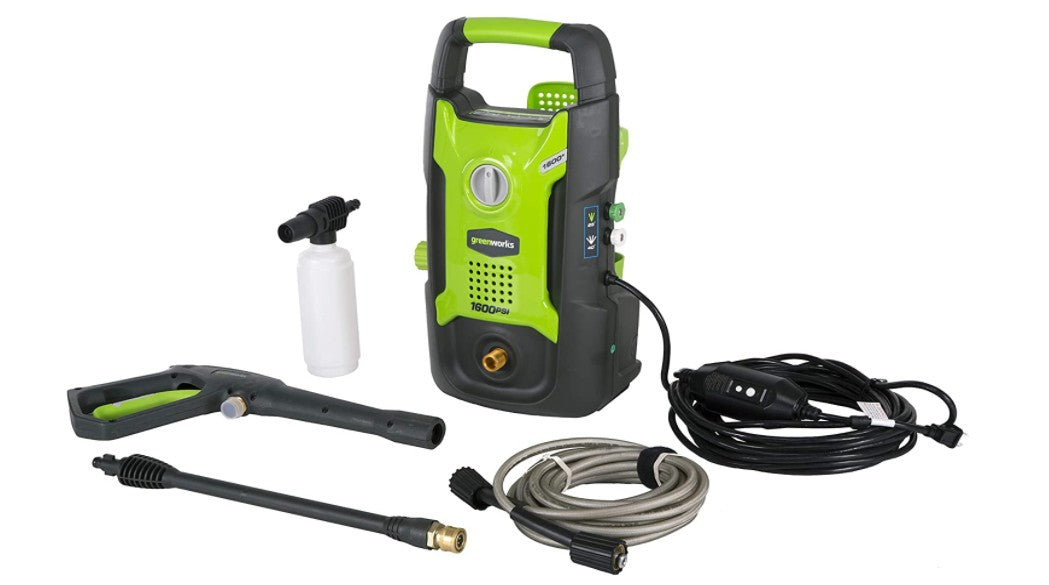 With 15.97 pounds weight and $88 price tag this product is extremely light in weight for your hand and your pocket.
Its 1600 PSI water pressure and 1.2 GPM and water capacity will do a fair job in cleaning light stains, mud, dirt, dust from any hard surfaces. You can even clean freely your dearly delicate car with it as its medium water force will not cause any harm to it.
it also has a 20 ft long pressure hose and 35 ft long power cord which is enough for a mini pressure washer like it.
You can use it vertically as well as horizontally because of its flexible and stable structure.
It has two nozzles i.e. 40-degree and turbo quick connect nozzle. So you can only do light washing and cleaning jobs with the wide spray nozzle of it.
6. Ryobi: 1600 PSI Pressure Washer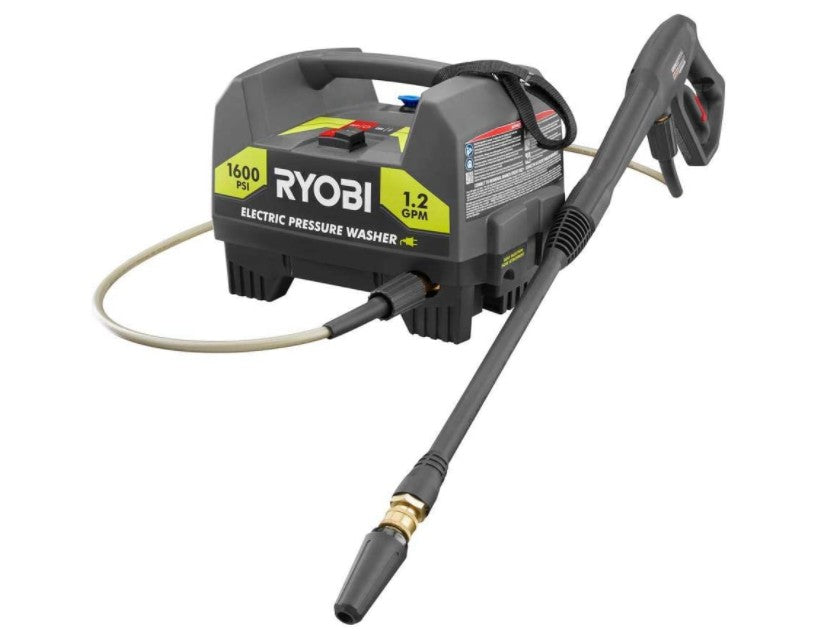 This mini portable electric pressure washer although weighs only 17 pounds but can do heavy works like cleaning cars, driveways, patio furniture, and grills. 
It also has 1600 PSI and 1.2 GPM capacity of power generate just like most of the above ones.
It does not have wheels but it will not cause you much trouble to carry 17 pounds because of its compact structure.
It has 3 nozzles- 15-degree for fast and forceful cleaning, soap nozzle, and turbo nozzle for 50% faster cleaning. 
This portable washing device will not cause you more than $150.
7. WestForce 2800 PSI Pressure Washer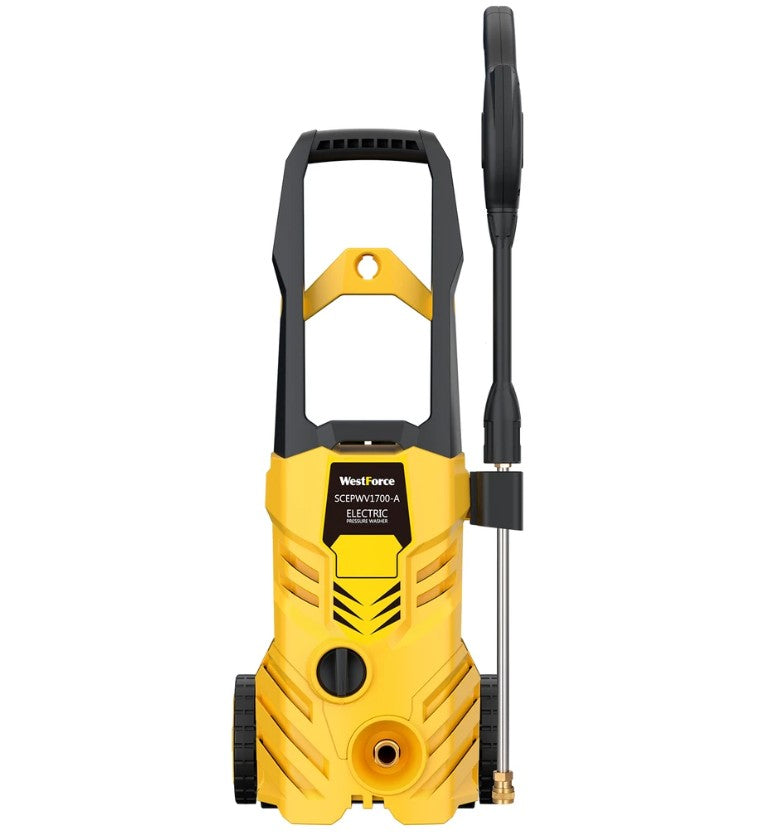 WestForce designed this product to win the battle against other companies. It is durable, stylish, modern, compact, and most importantly it is as powerful as a gas washer.
It got 2800 PSI and 1.76 GPM support to clean all sorts of medium and heavy-duty cleaning jobs. So if you are courageous and experienced enough to handle a heavily powerful pressure washer then it can be your ultimate choice.
It has 1600 W copper motor to give you longer motor life.
It has similar safety precautions like all of the WestForce pressure washer models i.e. TSS, IPX5 waterproof protection, and GFCI protection.
It has 3 quick regulating nozzles. The 0 and 25-degree nozzle will support extreme water force and speed at a time. The 0-degree pencil spray can be even used for graffiti removal or paint removals. On the other hand, the 40-degree nozzle spray will cover a wide range at a time and help you clean fragile stuff like plastics, glass, and wood.
It has a 20 ft high-pressure hose and 33 ft long power cord that is slightly small than the other but will work smoothly for domestic uses.
This extremely powerful pressure washer comes at an extremely pocket-friendly price. West Force charges this only $119.99.
Conclusion
So by comparing all the items and their price, features, and strengths the WestForce products are cleaning its competitors smoothly. The products are durable as well as fashionable. They are light and easily transportable. They are powerful and compatible with all types of cleanings. And most importantly they come with the warranty from a trusted brand with minimal price ranges. So do not ponder much about getting your cleaning companion home. Order it online or get it on the shops and experience hassle-free cleaning!