A Leaf Blower, the first gadget that comes to mind when you think autumn and backyard. It is a very handy tool to save time from using a rack to manually clear leaves and remove the debris off your backyard and garage. Contrary to popular belief, the leaf blower can be used all year round as opposed to autumn. You can use it to clear sandy off the patio or clean a dirty walkway. There are different leaf blowers-cordless, corded, and gas-based. How do you decide what to choose?
Buying a new leaf blower can be a hassle for homeowners. There are a lot of options to choose from your nearest home center, repair shop, and even online. Every house owner has a different requirement. Based on your budget, landscaping set up and what are the features you are looking for in the blower (power, performance, portability), there are a lot of options to choose from.
So where does a first-time buyer begin? Luckily, we have compiled a list of everything you should know before purchasing. From the types, top 10 leaf blowers, buying tips, safety guides, and operating a blower, we have simplified the entire experience of getting a leaf blower.
Part 1: Types of the Leaf Blower
A Gas leaf blower runs on a gasoline engine. An electric leaf blower has an electric motor powering it. Each has its advantages and disadvantages. Gasoline blower is more powerful than electric-based ones which have higher MPH and CFM ratings. An electric leaf bloweris quicky to start and does not require much maintenance. Among electric leaf blowers, there are corded one which reduces the space within which they operate. These need to be plugged in a socket. In the case of battery models, the performance is not effective due to shorter durations of running at peak power before a charge.
Backpack wheeled or handheld
Handheld leaf blowers are suitable for smaller areas and the least powerful of the three. It has a small style and is affordable. A backpack leaf blower can be worn on the back and reduces the weight on arms by otherwise carrying it. That way it can be used for a longer duration. Wheeled leaf blowers are pushed on wheels. These are bigger units and perform better than their backpack and handheld counterparts.
Based on the above broad classifications, we have the following types of leaf blowers:
Corded Electric
The electric corded leaf blower weighs less than 8 pounds and is handheld. In this case, you do not require a push button to start and there are no exhaust emissions either. However, the limiting factor is the length of the power cable which can reduce the area in which it can be operated. Assuming you need to work within 100 ft of the working area, this light-duty electric leaf blower is the thing you need. For over 150 ft, a heavy-duty electric blower is what you should consider. In terms of cost, it can range anywhere between $30-110.
Cordless Electric
In this type of leaf blower, the product is lightweight and weighs below 10 pounds. Unlike a gas blower that requires maintenance, the cordless electric blower has hassle-free maintenance. It can be maneuvered easily without the cord. Since it is free-range, some power is bound to be sacrificed. The batteries can run for only about one hour and can interrupt chores. Cost-wise it ranges from $150-300.
Handheld and Gas-powered
The biggest advantage of a gas-powered leaf blower is no charge. The pull-cord when yanked, starts the engine which requires tune-ups at regular intervals. Weight-wise, they measure approximately 10 pounds. The leaf blowers can be noisy. That is why it is advisable to wear a hearing protection aid. A two-stroke engine is present in most models and requires mixing oil and fuel. Engines with four-stroke are cleaner and don't need mixing. In terms of price, it ranges from $90-220.
Backpack and Gas-powered
This is a powerful blower compared to a handheld one and weighs over 17 pounds. A backrest ensures better distribution of the heavyweight. Compared to electric, they're a lot noisier and cannot shred or help in vacuuming. They cost between $160-480 and are more expensive than handheld ones.
Wheeled and Gas-powered
A wheeled leaf blower is useful for a larger area and takes approximately 8 feet of space. Bulky and weighing over 100 pounds, handling them is difficult and expensive. Some of the bigger models are less noisy and have four-stroke type engines. They cost anywhere between $280-800.
Part 2:10 Best Leaf Blower 
Quick Navigation: 
1. Greenworks Cordless Leaf Blower
2. Achi-Force Leaf blower
3. EWALT Lithium-ion XR Blower
4. Black Decker 20V Max Lithium Sweeper
5. WORX Cordless Air Leaf Blower
6. Snapper XD Cordless Leaf Blower
7. Makita LXT Lithium-Ion Cordless Blower
8. Craftsman Cordless Leaf Blower
9. KIMO Cordless Leaf Blower
10. Avid Power ACVB220
Greenworks Cordless Leaf Blower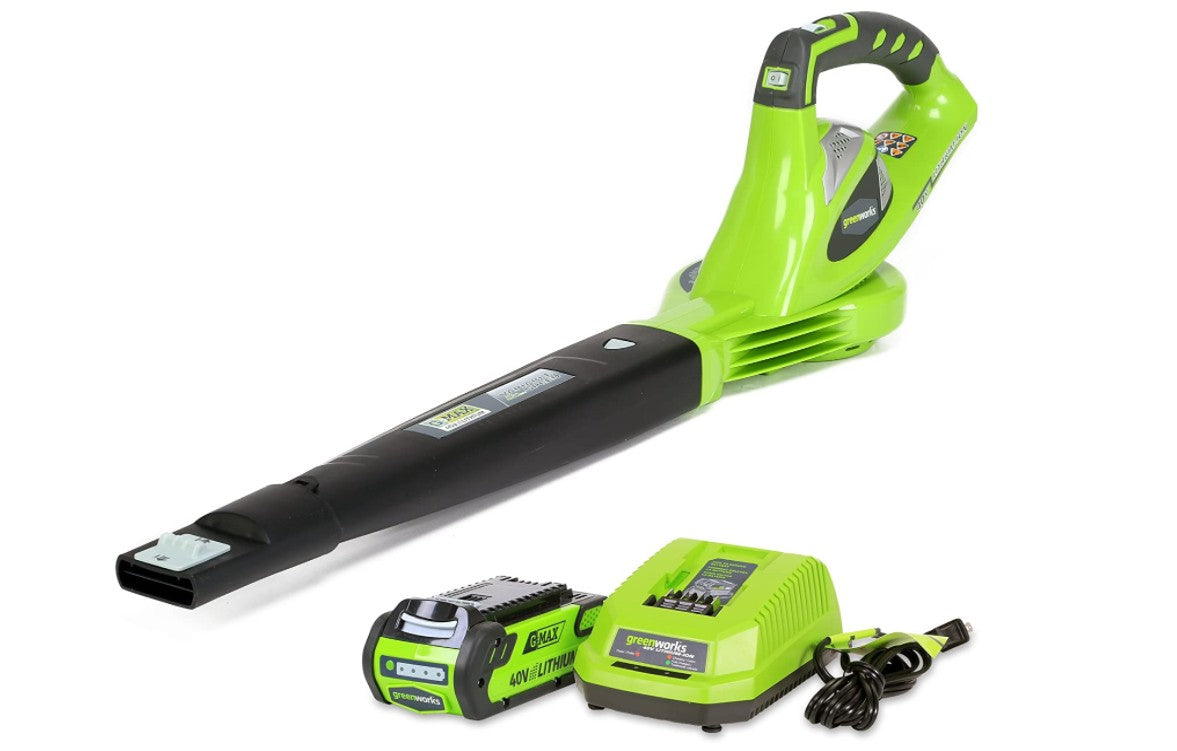 Priced at $187 for battery and charger features, this leaf blower gives a lot of facilities:
A 40-volt battery system
Maximum Variable speed of 150 MPH.
Sturdy design and quality
4-year warranty
Portable and compact design
Battery and charger also included
Extension tube to greater reach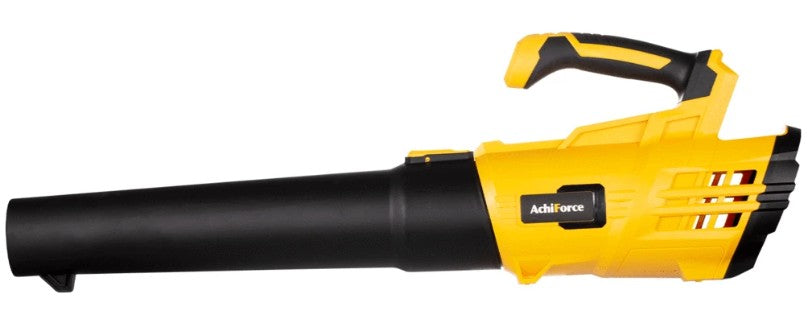 This leaf blower is used for dry and light materials like garden waste, grass, pieces of paper, and leaves. It has the following features: 
Has a 20 V bolt battery system
Powerful and delivering 70W power
Lightweight weighing only 1.9kg
Motor speed delivers 17000 r/min
Charging duration of 120 minutes
Efficient with a Li-ion battery
This appliance is not meant for commercial usage and for private properties usage
Meant to be used for purposes as specified in instruction manuals
DEWALT Lithium-ion XR Blower

Dewalt is a well-established brand among power tools today. The key features of this model are:
Long battery life
20-volt battery system
Has a 5.0 Ah Battery
Airspeed of 90 MPH
Warranty of 3 years
Lightweight and compact design
Black Decker 20V Max Lithium Sweeper

Black Decker LSW221 is priced at $89. This lawnmower has a compact design.
Comes with a 20-volt battery system
Delivers Airspeed of up to 130 mph
5 Ah battery
Charger and battery come included with the box
The motor makes Low noise
Battery good to go for 18 months
Comes with a 2-year warranty
WORX Cordless Air Leaf Blower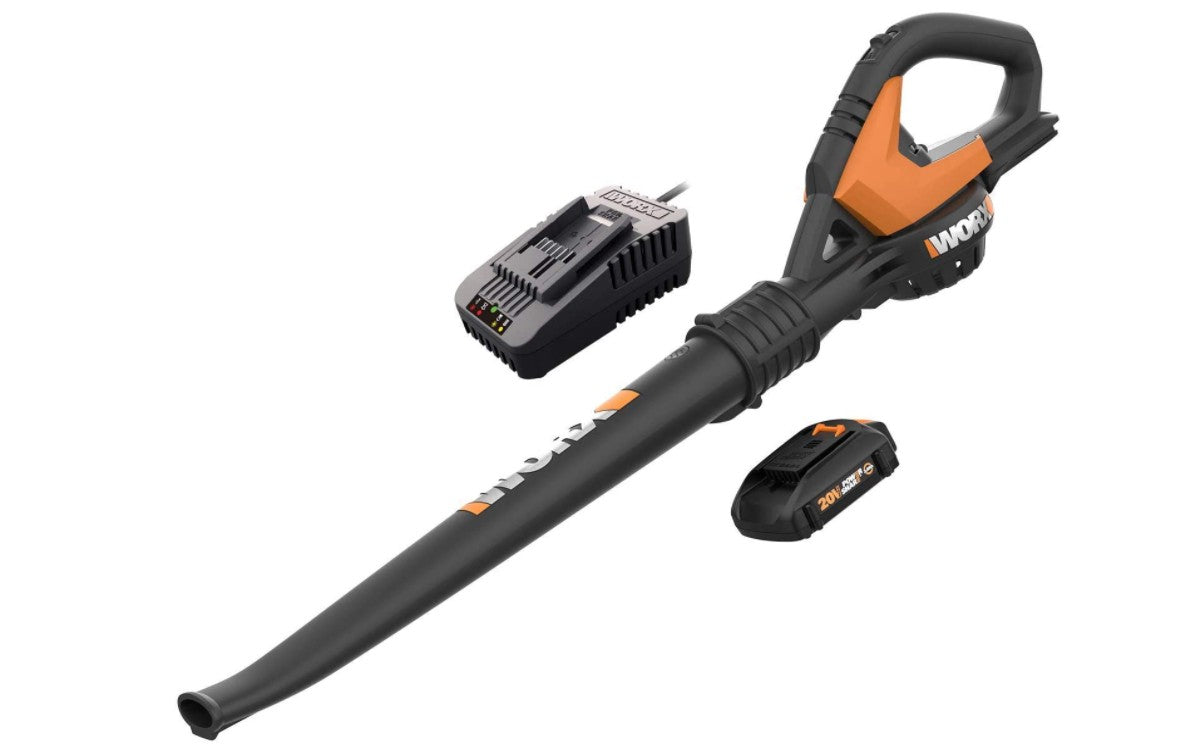 The Worx WG545.6 like any other Worx power tool is a good purchase for the money. It has received a lot of favorable user ratings.
Has a 20-volt battery system
Easily removable 2.0 Ah battery
Charger and Single battery included with the box
Airflow performance is decent at 80CFM
It has a maximum airspeed of 120 MPH
The leaf blower weighs at 4.3 pounds, with the battery attached
Easy to use with the ergonomically designed handle
Costs $99.99 and 3-year warranty
Snapper XD Cordless Leaf Blower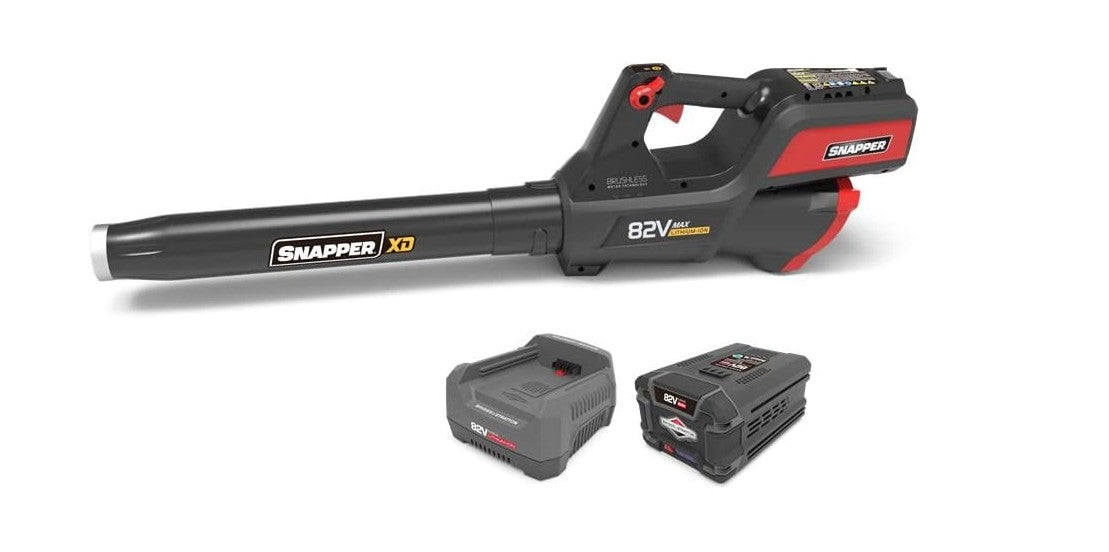 Snapper XD model SXDBL82K is another power tool made by the renowned Snapper brand.
It comes with a high performing 82-volt battery
Airflow rating of 550 CFM
Has an Airspeed of 130 MPH
Does not have very high battery life at 2.0 Ah
Charging time duration of 75 minutes
Sports an efficient t motor that is not noisy
Backed by a 5-year warranty
Priced at $ 278.35
Makita LXT Lithium-Ion Cordless Blower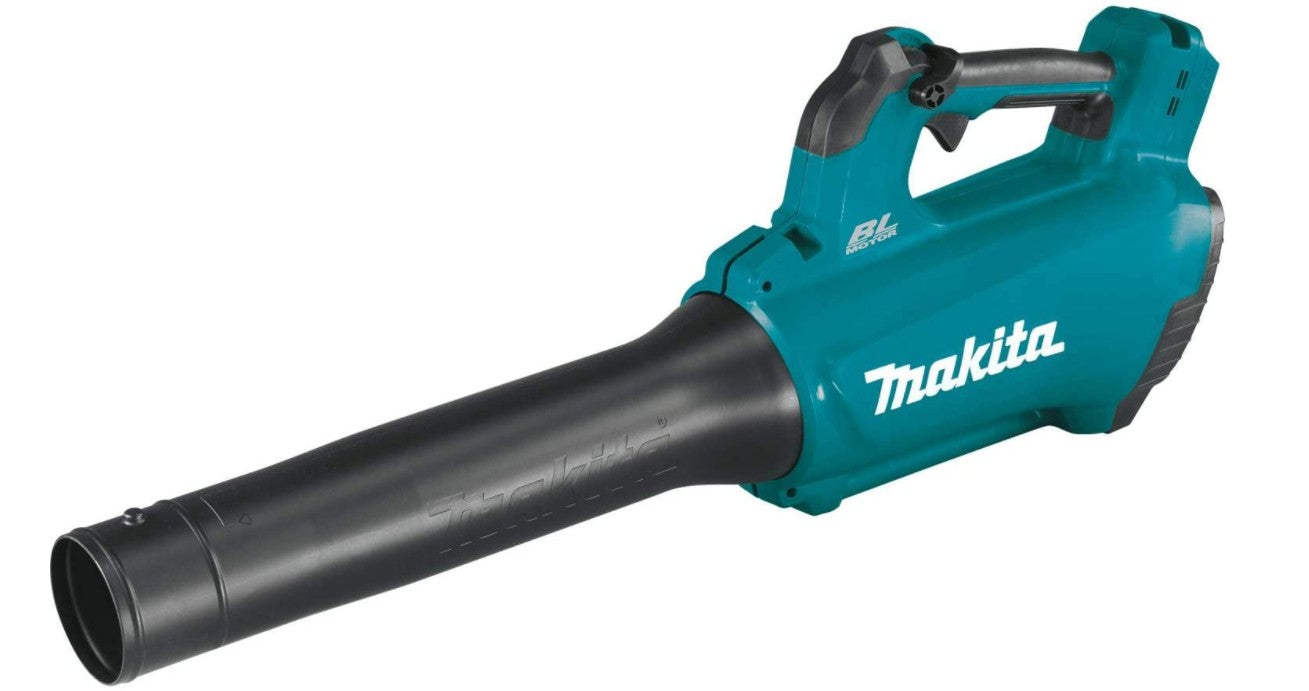 Affordable leaf blower which is a good value for money which is priced at $150.33. Its key features are:
Uses a battery system of 18-volt
Has a long-lasting 4.0 Ah lithium-ion battery
Decent performance of the variable speed motor which goes to 18000 RPM
Charger and Battery not included and need to be purchased separately
Makita Cordless Blower has a compact design and is lightweight
Weight 3.9 pounds and measures 20 ¾ inches in length
Has a 12 minute of a continuous single charge on full speed
Backed by a 3-year warranty
Craftsman Cordless Leaf Blower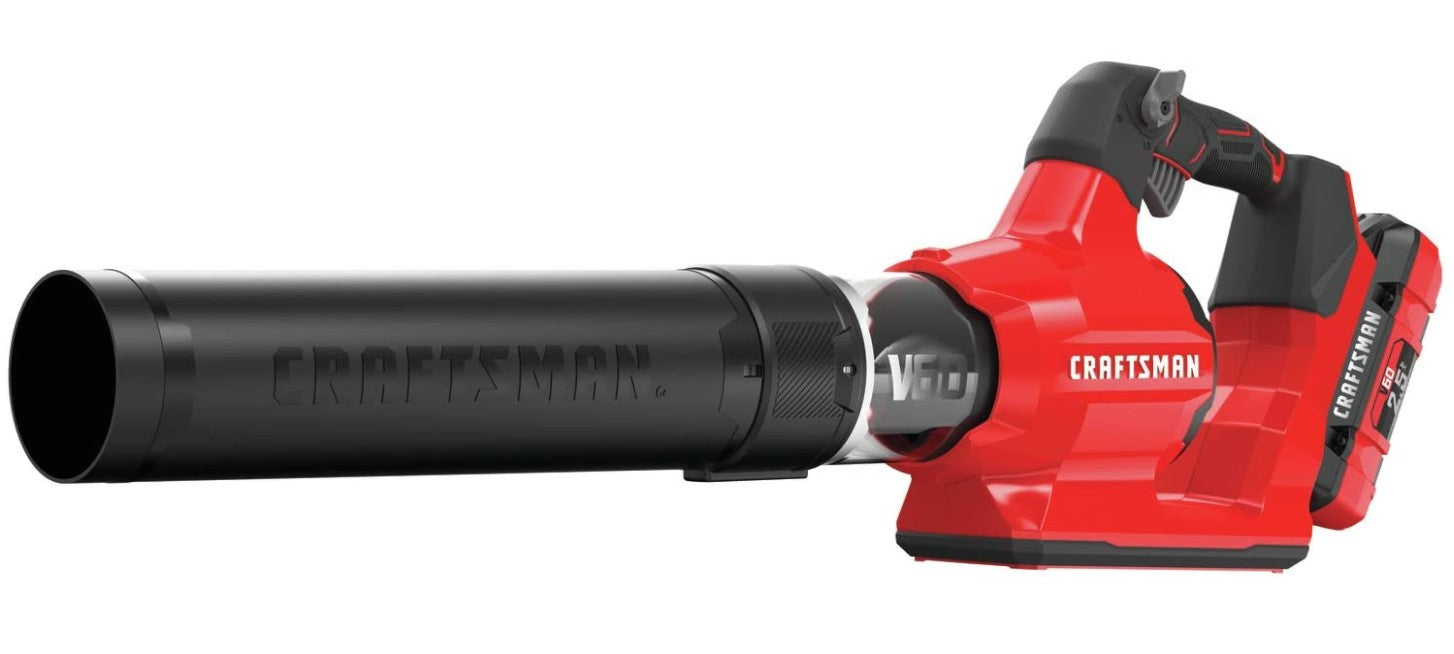 The Craftsman CMCBL760E1 leaf blower is a high-performing, albeit expensive power tool. It is priced at $192.79. Its key features are:
A 60-volt battery system
Airflow of 600CFM
Maximum airspeed of 110 MPH which removes leaves from lawn and backyard
Simple to use cruise control system and variable speed
Has a 4-year warranty period
Sports a silent brushless motor
A decent performing battery of 2.5Ah
KIMO Cordless Leaf Blower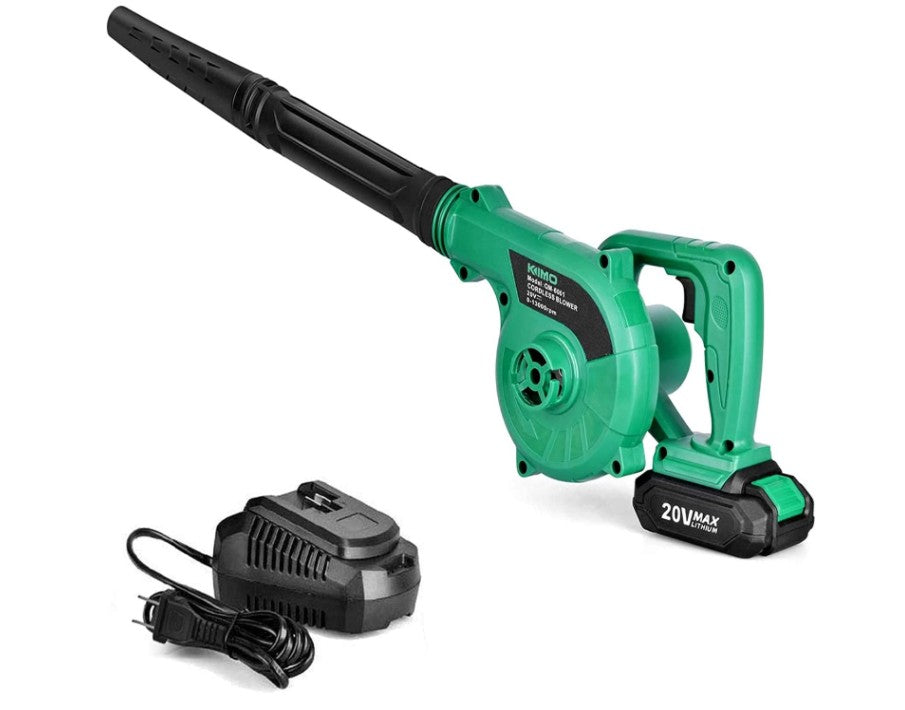 Kimo brand comes with a lot of cordless leaf blower models. The key features of this model are:
20-volt battery system which has a decent performance
Long battery life with 4.0 Ah battery
On a single charge, it can run up to 30 minutes which depends on usage speed.
Compact and portable design
Weighs about 3 pounds and is lightweight
Has 2 modes-Sweeper and vacuum
Backed by a 2-year warranty
The motor can reach a speed of up to 20000 RPM
Has a cost of $ 114.99
Avid Power ACVB220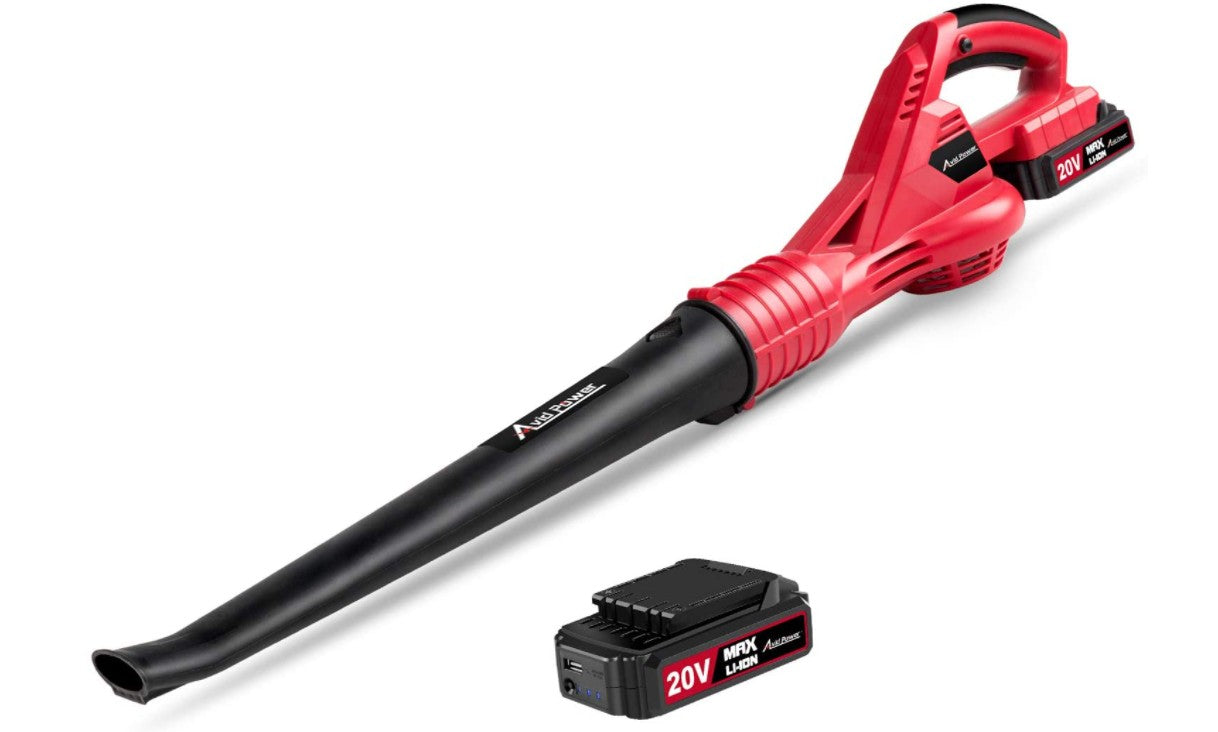 This cordless leaf blower from Avid Power is priced at $ 69.99 which is both affordable and good value leaf blower for the money.
The cordless leaf blower has a 20-volt battery system.
It sports a 2.0 Ah battery
Comes with a 3-year warranty period
The maximum airspeed of this blower is 130 MPH.
The blower has an airflow rating of 90CFM
Motor speed reaches a maximum of 12500 RPM
Has a decent performance
A unique aspect of this blower is an inbuilt USB output port for phone charging
Below is a brief summary highlighting the differences between the different products:
| | | | | | |
| --- | --- | --- | --- | --- | --- |
| Model | Price ($) | Battery System(volt) | Warranty(yrs) | Speed (mph) | Battery (Ah) |
| Greenwork Cordless | 187 | 40 | 4 | 150 MPH | Not defined |
| Kimo Cordless | 79.99 | 20 | 2 | 1300 RPM | 2 |
| Dewalt XR | 210 | 20 | 3 | 90 MPH | 5 |
| Black Decker LSW221 | 89 | 20 | 2 | 130 MPH | 1.5 |
| Worx WG545.6 | 99.99 | 20 | 3 | 80 CFM | 2 |
| Snapper SXDBL82K | 278.35 | 82 | 5 | 130 MPH | 2 |
| Makita LXT Lithium-Ion Cordless Blower | 150.33 | 18 | 3 | 1800 RPM | 4 |
| Craftsman CMCBL760E1 | 192.79 | 60 | 4 | 600CFM | 2.5 |
| Kimo Cordless 20000 RPM | 114.99 | 20 | 2 | 20,000 RPM | 4 |
| Avid Power ACVB220 | 69.99 | 20 | 3 | 130 MPH | 2 |
Part 3: Buying Tips for a Leaf Blower
While buying a leaf blower you should pay attention to the following parameters to help you choose a leaf blower model.
CFM and MPH ratings: A leaf blowerhas air velocity which picks the leaves. This is measured in miles per hour (mph). The leaves that are moved over an area is measured by air volume. Cubic feet per minute (CFM) is the metric for air volume. A leaf blower with higher CFM and MPH usually perform better. Also lookout for a well-designed blow tube which can often overcome the difference in specs. For engine sizes, manufacturers mention this in cubic centimeters (cc). Higher cc means more power. Higher CFM and MPH speak more about overall performance.
Vibration Reduction: While buying one must look out for anti-vibration components. This is because vibration in a leaf blower causes fatigue of the motor and numb sensation in fingers.
Rotational Control: The airspeed and impeller creating a spinning movement called 'gyro effect' which rotates the machine away from the center. So one needs to steer it back leading to arm fatigue. Better machines sport this feature and cancel the gyro effect out.
Easy storage: Leaf blowers come equipped with a quick tube which can be disconnected and stored quickly in minimum space. In the case of a backpack model, a tie-down strap that holds the frame to the blow tube is there. Look out for this before storing it.
Warranty: Some brands like Hitachi and Ryobi have warranties that are straight from the box. Others like Stihl have extendable warranties on buying their canned gas that is premium or two-cycle oil
While purchasing lookout for lithium-ion batteries which are more efficient and low on maintenance as opposed to toxic nickel-cadmium batteries.
A higher motor voltage or power means a better leaf blower. Advanced or better performing models have 60 or 80-volt performance.
Longer battery life like a 5.0 Ah rating means longer usage. One must also check the duration of charging which is given with every model.
The airflow rating in CFM tells about performance. If using a 400-450 CFM leaf blower, it makes for suitable use in a medium-sized yard. For 200-400 CFM, works well for sidewalks, patios, and small yards. Under 200 CFMs clear pathways, gutters and workshops.
Depending on the kind of job or intensity of use of blower, speed settings should be factored while buying. Some leaf blowers have a variable throttle to adjust the speed settings.
Other tips while buying: 
Always look for online reviews to spot the drawbacks of a leaf blower model. For demos, local repair shops and home centers have these leaf blower models to fire up and test as you narrow your choices.
Online stores and local shops have different return policies. Most allow returns for unused blower but some don't allow a return if fuel is added.
Online returns also involve shipping costs. So buy online only if you are sure.
Local laws, residential associations have certain rules on timing and decibel levels on using a leaf blower. These should be checked before buying a gas, cordless or corded leaf blower.
While handheld leaf blowers can be used with either hand but try looking for the dominant hand so that you can avoid clothing being sucked into the screen. This way you have better control while handling the leaf blower.
Part 4: How to use a Leaf Blower
Now that you have your safety gear on and are aware of the Dos and Don'ts of buying a leaf blower, its time to put it to use. Here are some tips to help you begin.
It is always a good practice, to begin with reading the user manual before first-time use. This is so that you know if all the parts are working and there are no missing components.
For cleaning out the garage, consider pointing the blower close enough to the ground. This rakes up a lot of dust so you must be mindful of slowing raising the blower to a height at which dust is no longer a problem.
Blowing in a single direction is a good practice so that you don't blow the leaf debris in a space that is already cleared.
A nozzle that comes with the blower helps in reducing the noise.
A leaf blower is not just meant for leaves, it also clears snow, dust and dirt from sidewalks.
While operating, the leaf blower should be kept at a side of the body with the nozzle at an angle, pointed to the ground. Smoothly move to work the leaf blower from side to side to pick up the dirt.
Part 5: Safety tips
For a safer performance of the leaf blower following guidelines should be adhered to:
You should wear leather-based gloves to reduce tingling or finger-numbness induced by vibrations of the device
Noise level at the leaf blower can go up to 100 decibels which is enough to cause permanent hearing loss. Therefore, wearing some form of hearing protection is always advisable.
Before you operate the blower, bystanders should maintain a minimum 50 feet distance from the blowing path.
Eye protection always comes handy as there is dust kicked up by the leaf blower
Before you refuel the blower, keep a 15-minute gap for the machine to cool. Hot engine vapor can ignite gas vapors while fuelling the tank.
The leaf blower should not be directly pointed at people or pets while in use.
Before using the machine, keep an eye out for the wind direction and intensity as that can also help in quicker cleaning up of the yard.
Conclusion
So now that you are ready to work on your backyard and maintain the look of your lawn, get yourself that leaf blower. For the best use, we recommend using a cordless and easy to operate model for first-time users. In this article, we have covered the top ten cordless leaf blowers and their specifications. For other queries on buying, we also listed what are the things to look out for in a leaf blower and what safety precautions to take when operating one. 
无标题文档