The need for a leaf blower is necessary if you own a garden or interested in landscaping. Like any other field, the leaf blower has also seen a significant number of changes. As a result, today we are witnessing the improved and time-saving leaf blowers. As a result, now we are seeing battery operated leaf blowers instead of fuel operated leaf blowers.
Part 1: What is the best battery powered leaf blower?
A Best powered leaf blower is one that should ensure your work is efficient as well as hassle-free. After these leaf blowers available with a cordless feature, it is making life more comfortable. The most important thing is it should ensure to produce less noise than a gas engine machine. The battery powered leaf blower also gives respite from the starting strain. You just need to plug-in the battery and press a button to move the leaves. The battery-operated leaf blower saves more time you would have spent to fill the fuel, sitting the choke and pulling the recoil several times to start the engine.
However, in the market, a plethora of brands are providing battery powered leaf blower in various price ranges, air blow speed, and other things. Hence, we are making your choice easier by providing the best ten battery powered leaf blower. Here, you can find the best battery powered leaf blower 2.5k.
Part 2: Top 10 Battery Powered Leaf Blower
1. STIHL BGA 85 Battery Blowers
Stihl is one of the best battery blowers available in the current market. The powerful output, different levels of speed adjustment, and cordless battery operation make this leaf blower among the most sought leaf blowers. Inevitably for the more specs, you need to pay a premium amount, if you really in the pursuit of the most powerful battery leaf blower then it is the right choice for you.
The first major feature of this leaf blower is it is completely battery-powered. The manufacturer claims that it provides a backup of 24 minutes in recommended settings. Considering the power it provides, if you work for 24 minutes it will do a lot of work. The whopping 650 m3/h air throughput with an airspeed of 46m/s. In short, it is cordless, with no gas, no emission and it is extremely compact.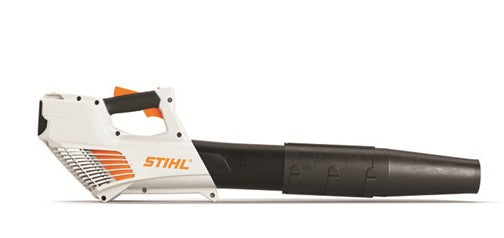 Features
It comes with a hanging slot that allows easy storage when it is not in use.
The device is eco-friendly because of its minimum emission. The exhaust level is almost zero.
To provide safety, it comes with a retaining latch that helps to prevent the automatic and accidental start when the battery is inserted. 
100 mph airspeed.
Weight 4.9 KG
64dB noise level.
Price $240. 
Pros
Cordless, emission less.
Eco friendly. 
Good battery backup.
Cons
2. AchiForce Cordless Leaf Blower
Achiforce leaf blower has gained more popularity in recent days and for the same reason, we included it in our battery powered leaf blower reviews. It is an ideal battery operated leaf blower that proves handy in lifting light materials such as dry leaves, grass, small branches, garden waste, and tiny pieces of paper.
This leaf blower from AchiForce is the best for cleaning your backyard, garden, or your surroundings. The well-built leaf blower is handy because of its compact size. The best thing we like about this product is its lightweight. You can easily remove small materials since it does not even weigh 2kgs without the battery. The product is not intended for commercial use, hence it becomes an ideal product for domestic usage.

Features
Cordless leaf blower 
The battery comes with a capacity of 4000 mAh
Li-ion powered battery backup
Weight excluding battery - 1.9 kg
Charging time of 120 minutes.
Pros
Long-lasting battery with 4000 mAh capacity.
Compact design 
Lightweight design and easy to operate
Cons
Not suitable for heavy-duty usage.
3. Ryobi RY40440 Battery Powered Leaf Blower
The Ryobi offers a nearly perfect and wide symmetrical air pattern and it also has a well-defined boundary to reach usually unreachable areas. It provides more comfort and better control because of its handle, shoulder straps, and trigger. All these come with adjustable pads to enhance comfort. 
The major complaint we can hear about the battery operated leaf blower is the life span of the device. But we bet this battery leaf blower will not give such an opportunity for you. Another significant advantage you can find from Ryobi is they offer multiple battery-powered tools, as a result, you can swap the battery between many tools.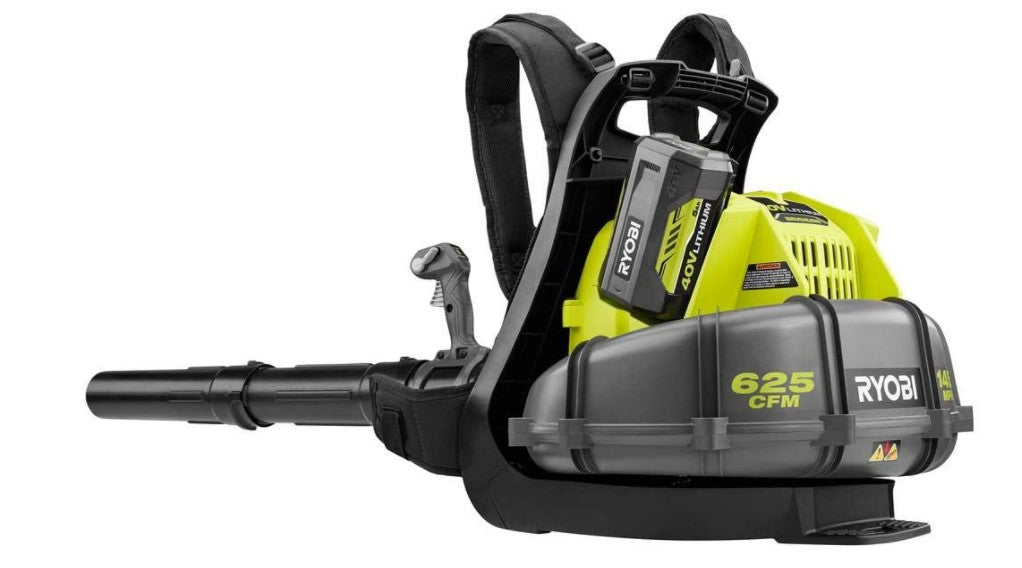 Features
The 40-volt battery pack offers longer run time, charging efficiency, and fade-free power. 
Perfect for cleaning leaves, lawns, and light to little hard elements with its 300 CFM and 127 mph airspeed.
Soft grip handle for added comfort.
Variable speed trigger for complete control.
Weight of 8.1 Kg, just 59 dB, and available at $239.
Pros
With just 59 dB it works quietly.
You can easily reach hard to access places
Powerful enough to remove wet and dry leaves.
Cons
Doesn't come with battery and charger.
4. STIHL BGA100
In the STIHL family, BGA100 is the most powerful leaf blower. When it is in boost mode, it is the powerful handheld blower that is designed to cater to the needs of the professional landscapers. It even performs better than most gas-powered leaf blowers.
Excluding the boost mode, you can get the noise level of just 56dB, and it is less compared to the most models available in the market today.

Features
The powerful tool comes at just 2.5 kg.
You can get an average velocity of 128mph (maximum of 167mph).
The option to control the velocity at four different levels.
The price of this leaf blower is $380.
Pros
Soft grip handles to enhance your comfort.
Four levels of velocity adjustment as per your needs.
Retaining latch to prevent accidental starts.
Cons
The battery power is less, and you have to go with separate batteries.
5. Black & Decker LSWV36
The black and decker LSWV36 is ideal if you are anticipating a smaller number of leaves and other lightweight materials on your surroundings. This device is the best tool for sweeping light duty. The device makes it easier to operate without using much energy. The only minor problem is you are unable to use it for heavy-duty, even blowing a large number of leaves is problematic. It is a battery powered leaf blower that comes at an affordable price.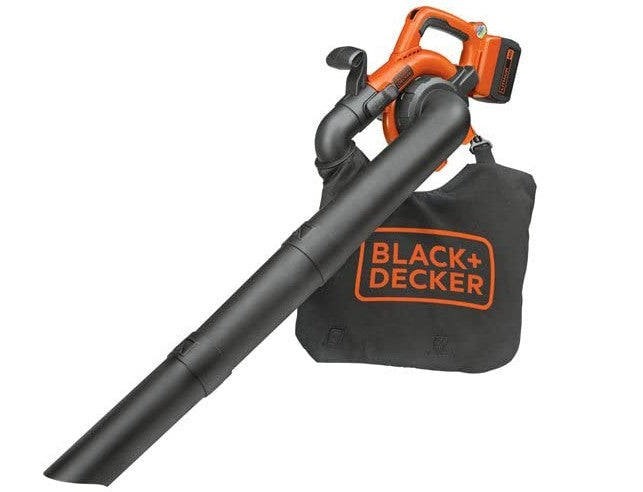 Features
It releases zero-emission. 
The efficient design is optimum for vacuum cleaning.
Airspeed of up to 120mph. 
The noise is less than 65 dB.
Available at $162.
Lightweight with just 3.1 KG
Pros
Fast charging the battery within one hour.
Soft grip handle for comfort.
Works quietly with less than 65 dB. 
Cons
Not meant for blowing leaves such as magnolia or hollies.
6. Kobalt KHB400B
The Kobalt KHB400B is a powerful leave blower that can blow away light leaves to small sticks. The highlight of this product is its highly adjustable airspeed settings. You can set ranging from light sweeping mode to powerful blowing mode. It comes with a high-performance brushless motor to enhance power, durability, and torque. The electric push button to start the engine is easier to operate.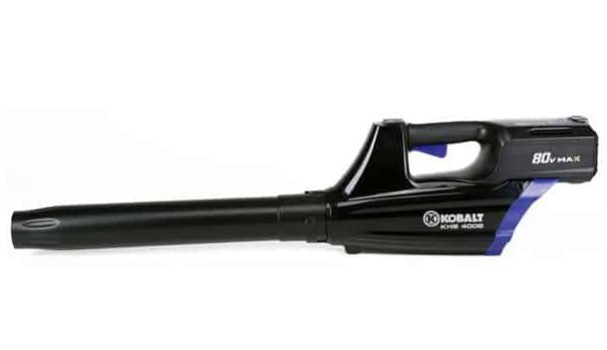 Features
The powerful device with 80 volts.
The high-velocity jet fan which blows at 125mph and 500 CFM.
Quick recharging with just 30 minutes recharge time.
A lightweight device with 4Kg and 85dB noise level.
Available at a price of $229.
Pros
Three different varieties of speed adjustment to set as per your need.
A long-lasting 70 minutes of run time.
You can use it for indoor usage also.
Cons
The durability of the battery is less.
7. EGO LBX6003
It is the best battery operated strongest leaf blower 1.7k. The device is remarkable in terms of its blowing power and battery backup timing. In fact, it blows away all the leaves and small objects more quickly and efficiently than any other leaf blowers. Hence, inevitably you have to admit it is the most powerful battery leaf blower. The device is tethered to the battery by a cord which aids in switching hands comfortably. You are unable to find this feature in many backpack blowers. If you want to make it stronger, you can equip it with a 28 amp power battery.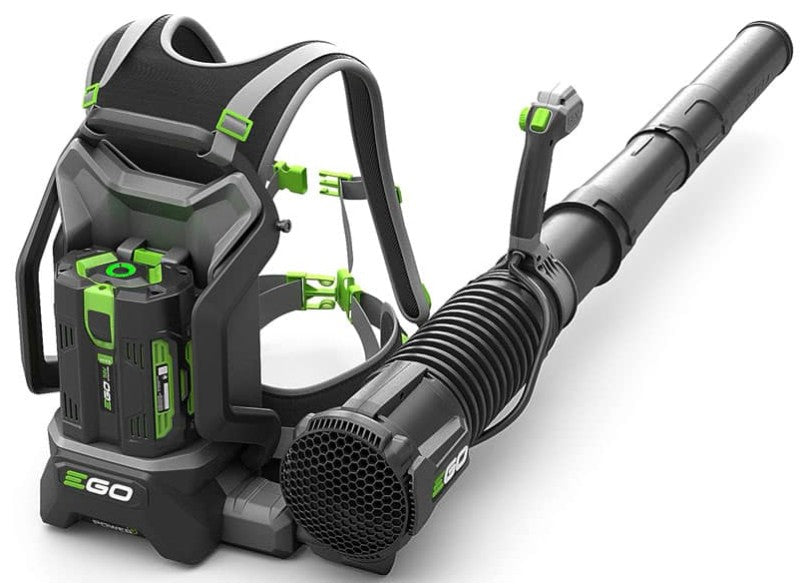 Features
Excellent power with 145 mph speed and CFM 600.
It is up to 8 times quite than normal leaf blowers with just 64 dB noise level.
A massive 180 minutes of run time.
Weight of 5.9 Kg. 
This powerful device comes at $399.
Pros
You can choose the variable speed from 320-600 CFM.
A powerful tool to move debris with 600 CFM.
It provides more comfort with an adjustable waist belt.
Cons
The battery power is less since it drains very quickly with such a powered engine.
8. Makita XBU02Z
The old fashion gas-powered leaf blowers are not meeting the requirements of many landscapers and contractors and for them, it is one of the better alternatives. It is available with an 18 - volt X2 LXT lithium-Ion brushless and cordless blower. It is an ideal solution for all your needs of cleaning the leaves and small materials laying outside of your house. The efficient Makita BL motor provides longer run time, excellent speed and power, and longer device life. Since it comes without the carbon brushes it runs cooler and gives more shelf life. Even if you set it on dial 3 setting it runs up to 28 minutes.

Features
The Makita BL brushless motor delivers up to 473 CFM.
You can get a maximum airspeed of 120 mph.
Complete control over the speed with six different speed variable levels.
Very less amount of sound production of 61 dB.
The lightweight device with just 4.5 Kg.
Available at a price of $329.
Pros
The engine starts instantly with the press of a button. 
The innovative battery and motor technology reduce maintenance needs.
You will get three years of warranty.
Cons
The battery dies after 10 minutes on level six.
9. DeWalt DCBL772X1
The DeWalt leaf blower is a powerful tool to complete your task with comfort. Of course, it is a bit heavy but it does a decent job in cleaning the hard surfaces. The leaf blower comes with 60 volts brushless motor and speed ups the task by providing 600 CFM air velocity and the airspeed of 125 mph. The most useful feature is its speed lock & variable speed trigger to monitor the output. The motor aids in increasing efficiency by providing enhanced power and extended run time. The battery of the 20-volt battery can be used with other devices that use the same volt batteries. Undoubtedly you can say it is one of the best battery powered leaf blower of 2020.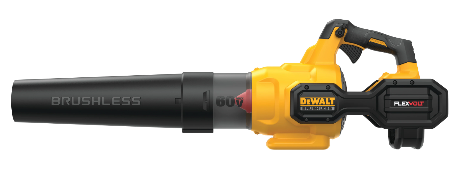 Features
Provides a powerful air volume of 600 CFM and 125 mph. 
The option of controlling the speed with speed lock and speed trigger options.
Effective brushless battery.
The tool weighs around 5.5 kg.
It is available at a price of $269.
Pros
You can have complete control over the speed with the speed lock feature.
It comes with an unbelievable 180 days of the return period. 
It is free from emission and free from the cord
Interchangeable nozzle connections
Cons
It lasts only ten minutes at a maximum speed setting. 
10. Worx WG591
Worx introduced a new technology called turbine fan into the leaf blowers. Because of this, you can get forceful, high capacity, and handling the extra tough conditions capabilities. It is designed ergonomically and consequently, the weight is distributed equally. It weighs only 3.7 kg and you can easily perform your operations. It arrives with keyhole pattern design cutout tool that enables you to hang the devices on existing hooks, nails, or bolts.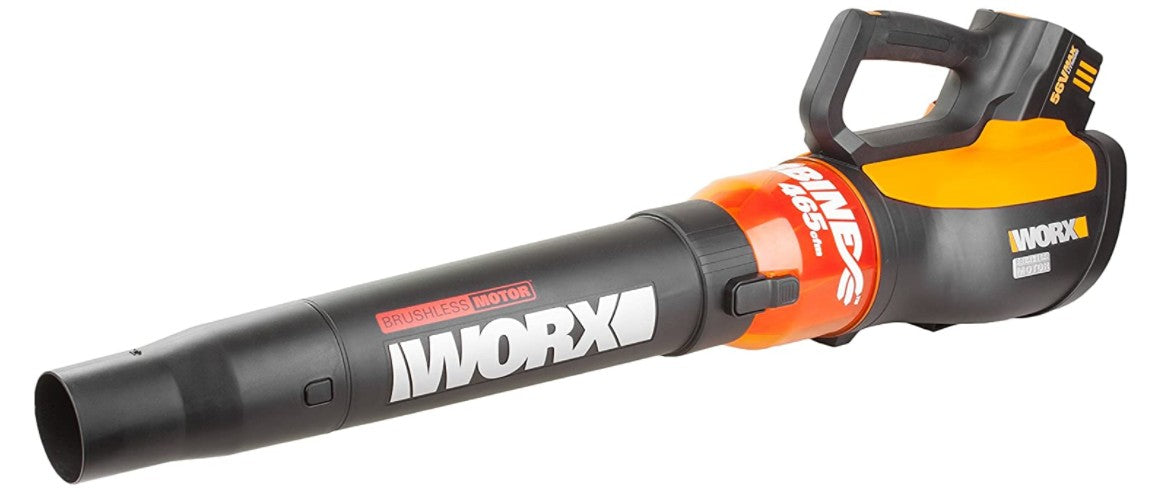 Features
Comes with a powerful 56 volts capacity.
The weight of the device is 3.7Kg and available at $149.
Innovative turbine fan technology.
It provides a maximum of 125 mph airspeed. 
Pros
The battery gets charged quickly within one and a half hours.
Available with three years of warranty.
According to the job you have on hand, you can set speed.
Cons
Inadequate battery power.
Conclusion
The need for battery-powered leaf blowers is more considering all aspects, including your convenience, comfort, price, and the time it takes to perform the job. And most importantly, it is an eco-friendly tool. It is high time to purchase the best leaf blowers as per your preference and maintain your surrounding neat and clean. We hope this list will make your job easier in the pursuit of finding the best leaf blower.