Do you have a love for trees and plant a lot in your garden? Do you have big trees like oak, maple, or birch around your house? Does cleaning your backyard become a strenuous job for you during the dry season? Then the best solution you can have for you is a leaf blower. They can shift and store the dead leaves of your garden in minutes. A leaf blower though named as leaf blower but is actually helpful in more tasks other than just blowing the leaves. You can blow away deck sands and clear your walkways from dust during summer days. You can even remove a thin layer of snow after an overnight snowfall. So a leaf blower can reduce your effort in many ways. Below you will get a complete buyer guide on best leaf blowers; its types and kinds. Here we will give you detailed information on various types of leaf blowers, their works, specifications, and we will show you the best leaf blower of that type. 
There are varieties of leaf blowers available in the market. The main types are; corded electric leaf blower, battery-operated cordless leaf blowers, and powerful gasoline-powered leaf blowers. Each of them comes in a variety of styles right from the handlebar design to the backpack units. The wheeled leaf blowers are best for heavy-duty debris cleaning. Let's talk in details about each type of best leaf blowers
1.Corded Electric Leaf Blowers
The corded leaf blowers are extremely light and you can use it single handily. It can start with just a push in a button. A corded electric leaf blower generally weighs around 8 pounds. You can easily clean leaves and debris from 100 feet distance with it. The only problem with the corded leaf blowers is the cord itself. You cannot move it wherever you want because of the limit of the cord. Moreover, you need to have a plug point near your garden to plug in it. It can cause a big problem if you mistakenly tangle it around the trees or stumble over it because of the cord. Also, a corded electric leaf blower can cause a lot of noise while working. The cost will be around $30 to $100. Thus a corded electric leaf blower can act as the best handheld leaf blower if you have a plug point nearby. 
Best Leaf Blower in Corded Electric Type:
Toro PowerJet F700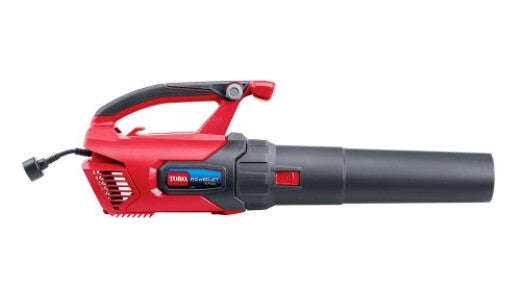 It is the best electric leaf blower so far. It is a powerful giant. It can even compete with gas blowers in power. It can even move large piles of wet leaves with air volume up to 725 CFM. The airspeed of 140 MPH of Toro PowerJet700 enables it to lift and shift wet and heavy leaves easily. With up to .728 horsepower it is an extremely powerful model. You get a variable speed dial to adjust the power. Its cord lock feature holds the extension cord firmly in its place.
You can move it in any direction without worrying about the cord attachment. With only 6.66 lbs weight you can easily lift it and operate it with one hand. But the Toro PowerJet700 also has a secondary pommel grip at the front of the handle. This thing is very helpful in theses sort of powerful leaf blowers. It will give you extra grip while working. Its price is only $57 so you cannot get anything better at this much low price.
2.Cordless Electric Blowers
This sort or leaf blowers are extremely preferable for their lightweight hassle-free services. If you have a small lawn or garden beside your house that does not get much dirty then a cordless electric blower is best for you. It will give you full comfort while cleaning leaves as it does not have the hassles of cords and noise. They are light in weight and you can use them anywhere constantly for one hour if it is fully charged. The main problem of a cordless electric wire is that it lacks the power of a gas-powered or corded model. It will only work until the rechargeable battery lasts. But they can work effortlessly for small duty cleaning jobs. The cost of a cordless electric leaf blower will be around $150 to $300.
Best Cordless Leaf Blower: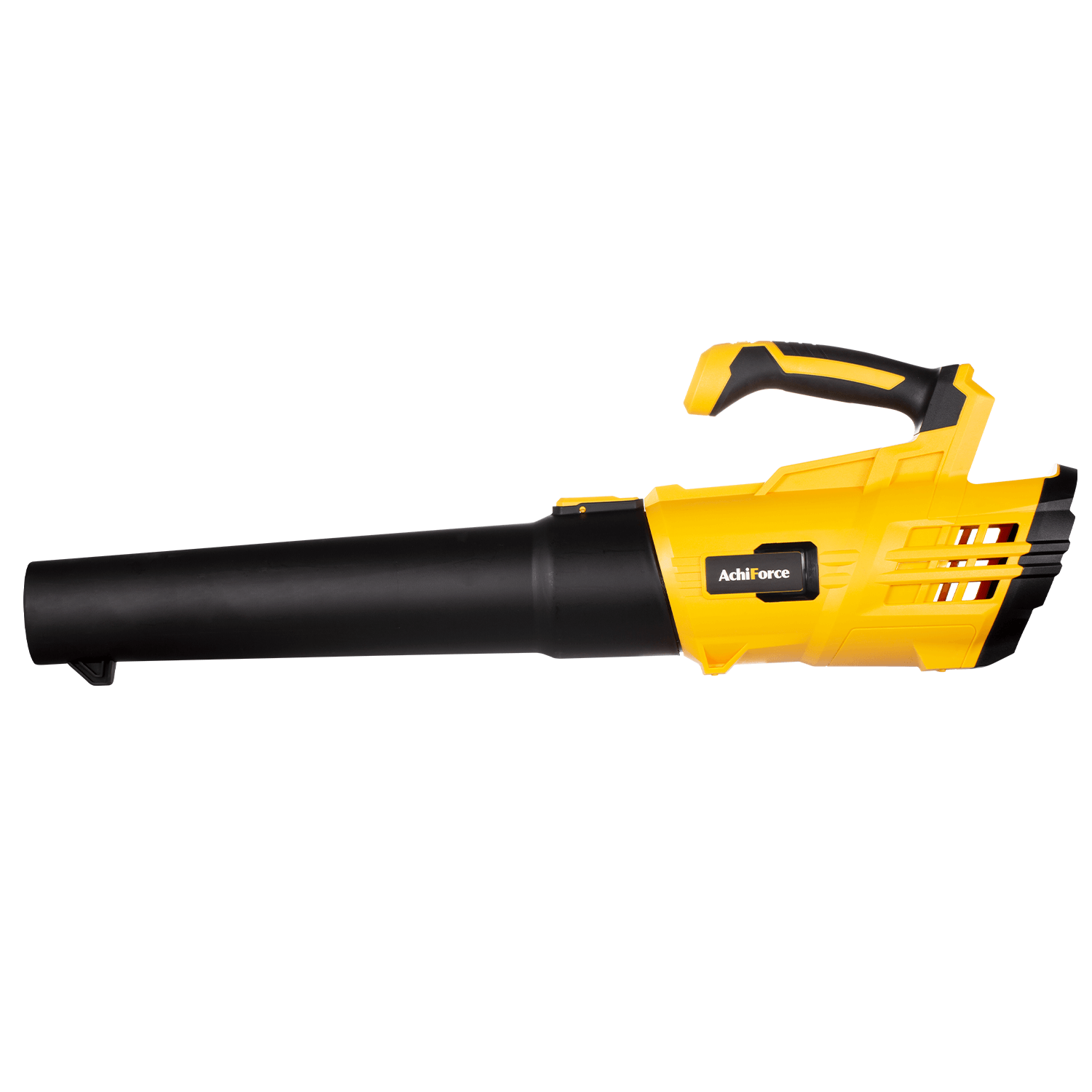 If you are searching for the best battery powered leaf blower then nothing is better than AchiForce cordless electric leaf blower. The airflow rating is 360 CFM and the 90 MPH airspeed will deliver enough power to clean your garden. You can escape the troubles of a bulky corded leaf blower with this lightweight cordless model. With a replaceable 20 V, 4.0 Ah lithium-ion battery AchiForce Cordless Electric Leaf Blower becomes the best lithium-ion cordless leaf blower too. You can get your desired speed level as it supports 5 adjustable speed levels in it. Also, AchiForce designs this model with over-voltage, over-temperature, over-current, and over-discharge protection. You can get this all in one cordless effortless electric best battery leaf blower at only $89.
3.Gas-powered handheld leaf blowers
If you want more powerful but a cordless leaf blower then the gas-powered handheld leaf blowers are perfect for you. The gas-powered ones are extremely powerful and can shift debris, bulky wet leaves in almost no time. Here you will have to pull a cord to start the engine and then periodically turn it. A gas-powered leaf blower requires gasoline to run and thus has a smoke exhaust in it. Most of the handheld gas-powered models have 2 stroke engines but some also have the powerful 4 stroke engine in them. Because of the gasoline tank and powerful engine the gas-powered ones are a bit heavy (around 10 pounds and above). The cost will be around $90 to $220. The problem with this type of leaf blower is that they create too much noise. Also, they are very powerful and contain combustible gasoline in it, so you need to be extra careful while using them.
Best Gas Leaf Blower:
Hitachi RB24EAP Gas-Powered Leaf Blower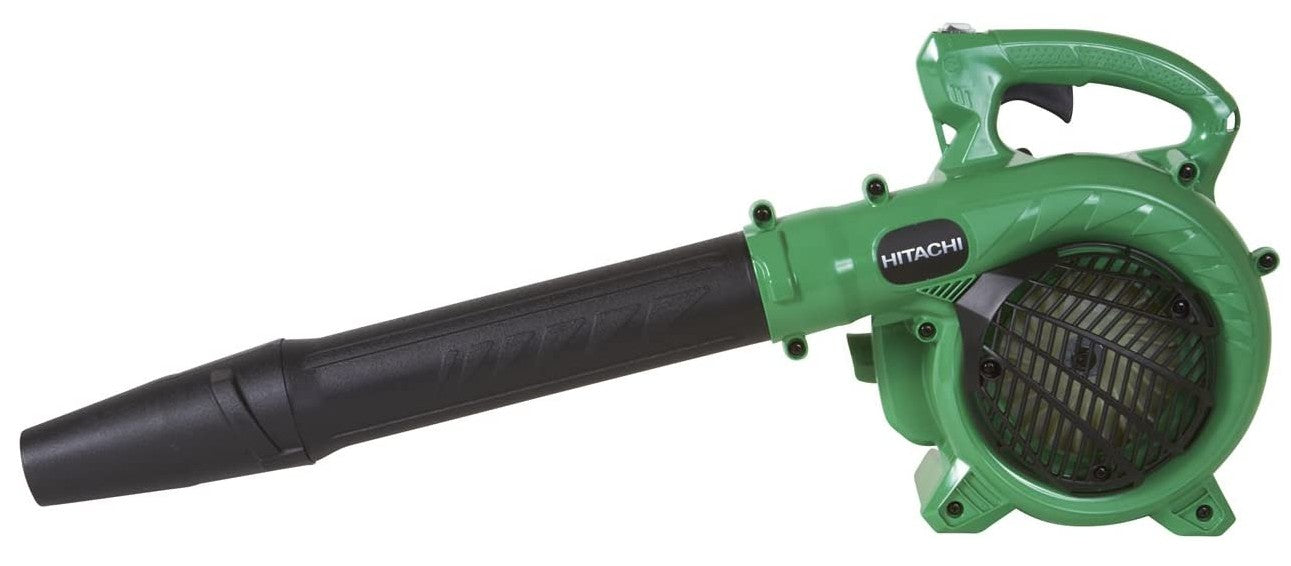 Hitachi is a big name in industrial and heavy-duty power tools. Their handheld gas-powered leaf blower is a total value for money. You can completely rely on this durable model. You will get a 7-year warranty on this best leaf blower which itself proves its durability and stability in the long run. Its highly reliable 2 cycle gas engine has a capacity of 23.9 CC. The airflow rating of its engine is 441 CFM and the airspeed is 170 MPH. You can guess by these numbers that how much power it can generate while cleaning. It is more than enough for a home user. One can clean big sized lawns effortlessly with it. The weight is 8.6 pounds which is much lighter than other pas powered models. Moreover, you get two-finger throttles that offer you variable speed operations. You also get a 17.6 fl. oz. Fuel tank to get a long time performance in one go.
4.Gas-powered backpack leaf blowers
If you want to power with convenience then choose a gas-powered backpack. You can do any heavy-duty cleaning jobs with it. Along with shifting leaf debris, you can clean your walkways and sideways from dust dirt, or even from stone particles. These sorts of leaf blowers are heavy. They weigh around a minimum of 17 pounds. But you don't have to worry about the weight much as you will not have to carry the entire weight on your hands. You can carry the body of the machine on your back just like a backpack and clean your garden by using the cleaning pipe. But they create a lot of noise and also produce polluted air throughout your cleaning time. They need oil and gasoline instead of electricity to start and run. The cost of a backpack leaf blower will be around $160 to $480.
Best Backpack Leaf Blower:
Husqvarna Gas Backpack Blower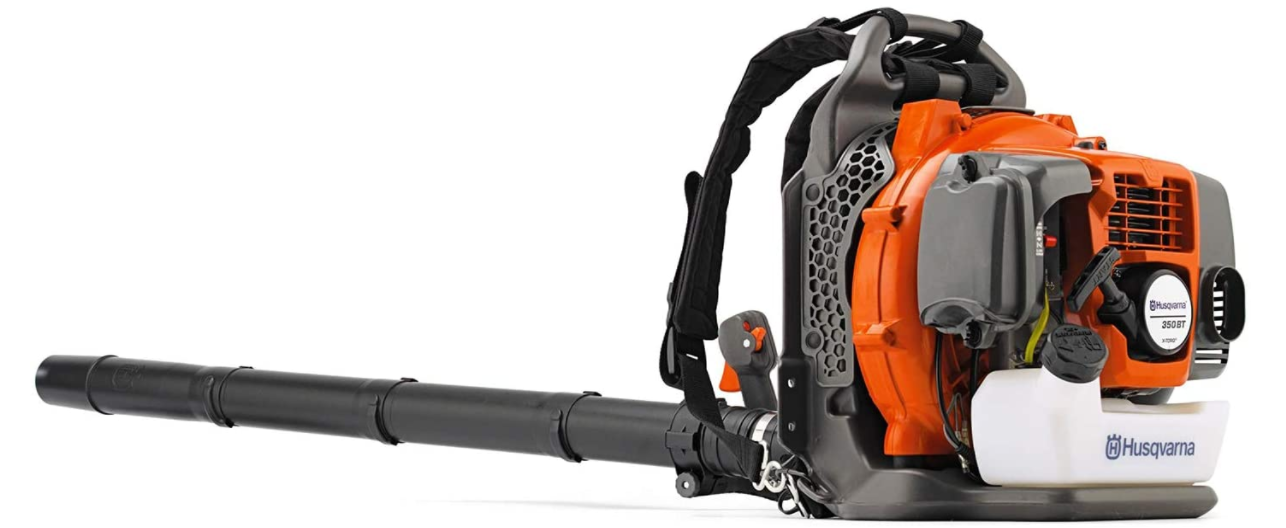 It has advanced features like an x-torque engine. The engine design reduces harmful gas emissions by up to 60%, and also increases fuel efficiency by 20%. It will require minimal arm strain as the offset handle will make the blowing force easier to control and prevent the arm from pulling downwards. The idling speed of 2200 RPM is more than enough for cleaning leaves.
The dampeners between the engine and the chassis reduce vibration effects on your body. You get a padded harness and hip belt with it for perfect and comfortable fitting. The airflow of this best leaf blower is 692.17 CFM. And you can adjust its speed by using the speed throttle and cruise control. The air purge system removes air from the carburetor and fuel system for an easy starting. You can also adjust the blowing tube length according to your needs.
5.Gas-powered wheeled blowers
This one is for huge garden owners or professional garden cleaners. When you need to clean huge grounds in one go then a gas-powered wheeled blower is the only best leaf blower. These sorts of leaf blowers are large and heavy in shape. They run with four-stroke engines and are 100 pounds in weight. They are also very noisy. With this much power, the noise will be your companion. These types of leaf blowers are also very expensive. A gas-powered wheeled blower will cost you around $300 to $800. So we do not recommend it unless you have a genuinely huge place to clean.
Best Gas-Powered Wheeled Leaf Blower:
Troy-Bilt TB672 Walk-Behind Leaf Blower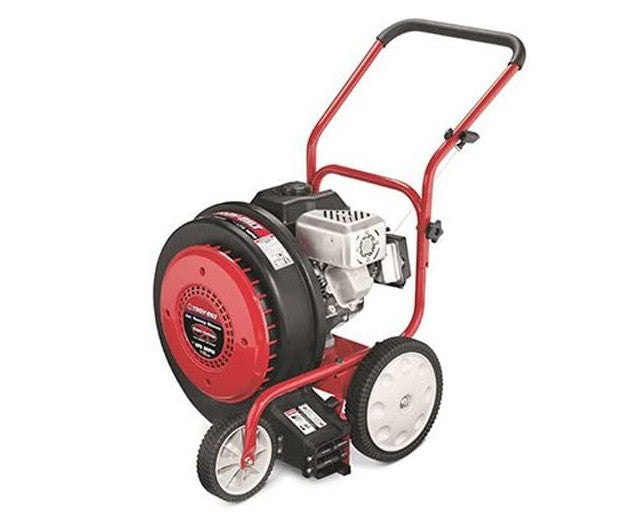 Carrying a heavyweight leaf blower for almost an hour is not an easy job. Your hands will feel numb after some time. Thus for heavy-duty cleaning jobs, you can take a wheeled one. This one will clean up a large area from dirt, debris, and rotten leaves in just one blow. It has a 208 cc powerful motor. The skillful design of the rubber grips and wheels reduces much vibration. Here you can also adjust the wind speed according to your needs. This easy to use wheeled best leaf blower is quick to start and easy to use. So if you don't want to get the load of your garden cleaning then take a gas-powered wheeled leaf blower like this.
Conclusion
So these are the basic types of leaf blowers. We discuss the best leaf blowers according to our consideration in each specific type. You need to choose your one according to your garden size and your purpose of cleaning. If you live in a mostly dry seasoned area then cleaning leaves is your regular task. Though gas-powered ones are powerful yet they cause a lot of air and noise pollution. They can cause headaches and back pain for you after long use. So for an environment-friendly and effective leaf cleaning go for the AchiForce cordless battery-driven leaf blower.